'Star Wars: Episode IX' Will Feature Mark Hamill and Carrie Fisher as Leia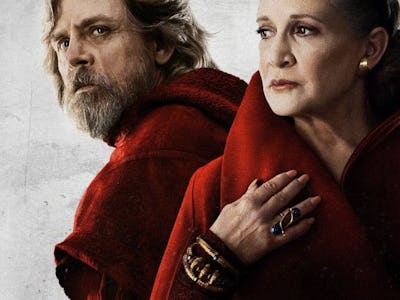 Lucasfilm
Star Wars: Episode IX is still far, far away, but on Friday Lucasfilm announced the cast of the third film in the new trilogy, and there are a few surprises. Mark Hamill is said to be returning, despite Luke Skywalker having died in The Last Jedi. And, Leia will appear in Episode IX despite the death of her actress, the great Carrie Fisher.
According to the announcement post on StarWars.com Leia will appear in Episode IX, but true to Lucasfilm's word, the studio will not be recasting Fisher nor will they be making a computer-generated version of her (á la the digital Peter Cushing the studio made to bring Grand Moff Tarkin to life in Rogue One).
"We desperately loved Carrie Fisher," Director J.J. Abrams said in a statement. "Finding a truly satisfying conclusion to the Skywalker saga without her eluded us. We were never going to recast, or use a CG character. With the support and blessing from her daughter, Billie, we have found a way to honor Carrie's legacy and role as Leia in Episode IX by using unseen footage we shot together in Episode VII."
It's unclear how extensive this footage is, or what the circumstances of the footage are. Presumably, there will be some editing trickery to make the cut Force Awakens scenes fit into the story's present. In December of last year, Last Jedi director Rian Johnson said there weren't any big scenes" involving Fisher that he'd cut from his movie, though he said Abrams was welcome to use it.
In addition, the casting announcement reveals that Hamill will return, presumably as a Force-Ghost version of Luke Skywalker. This news seems to quash worries that Hamill's shaved beard meant fans had already seen the last of the Jedi master.
Billy Dee Williams will also return to Star Wars to play Lando Calrissian, as previously announced, and he'll be joined by series newcomers Naomi Ackie (Lady MacBeth) and Richard E. Grant (Dr. Zander Rice in Logan).
Here's the full casting list:
Returning cast members include Daisy Ridley, Adam Driver, John Boyega, Oscar Isaac, Lupita Nyong'o, Domhnall Gleeson, Kelly Marie Tran, Joonas Suotamo, and Billie Lourd. Joining the cast of Episode IX are Naomi Ackie and Richard E. Grant, who will be joined by veteran Star Wars actors Mark Hamill, Anthony Daniels, and Billy Dee Williams, who will reprise his role as Lando Calrissian.
Star Wars: Episode IX hits theaters in December 2019