Leia in 'Star Wars Episode IX:' Hamill Says Fisher is "Irreplaceable"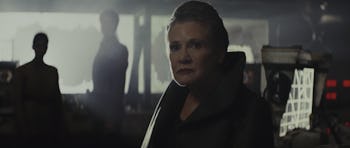 Lucasfilm
Right now, only J.J. Abrams, Lucasfilm president Kathleen Kennedy, and a few select others know how the current Star Wars trilogy will recover from the tragic loss of Carrie Fisher. Only they can answer the question: will Leia appear in Episode IX? And if so, how? As a small contingent of fans push for a recasting of Leia, Mark Hamill says the late actress is "irreplaceable."
On Tuesday, Collider published another excerpt from their in-depth video interview with Mark Hamill. In the latest segment, Hamill is asked point-blank how he feels about the possibility of Leia being recast for Episode IX. "I think it would be tough recasting only because she's [Fisher] is so indelibly linked with that character," Hamill said. "It's not an insurmountable problem, but I know the script had been developed enough that when we lost her, they had to go back to square one. But she's irreplaceable."
Hamill made it clear that he has no idea how Episode IX will proceed, which implies he's not involved in the film at all. In other words, Luke's ghost probably won't return for the movie. And seemingly, from Hamill's point of view, neither should Leia. Back in December, Last Jedi director Rian Johnson told Inverse that there probably wasn't any additional footage of Carrie Fisher left over for use in Episode IX. "There weren't any big scenes.There were smaller scenes that, structurally just ended up falling away…But there wasn't any big and significant."
Johnson also made it clear that he made any and all leftover footage available to J.J. Abrams saying: "I had a conversation with J.J. [Abrams], [and said] you can take a look at anything we didn't use. But I don't think there's anything there. The truth is, there isn't a ton of her that we shot that we didn't use in this movie."
So, even though Hamill says the problem of Leia's role in Episode IX isn't "insurmountable," it seems pretty tricky. Save for a minority of fans, no one seems in favor of recasting Leia or any kind of digital resurrection, beyond what was done for Rogue One.
Where this leaves Star Wars is something of a cliffhanger. But unlike the plot-oriented of cliffhangers that pervade the saga, this one isn't about what will happen in a galaxy far, far away. Now, the real cliffhanger is about what happens in real life. - Star Wars: Episode IX will hit theaters on December 20, 2019.