'Fortnite' Season 11 start date, rocket event, new map, and more essential info
Are we getting a new map?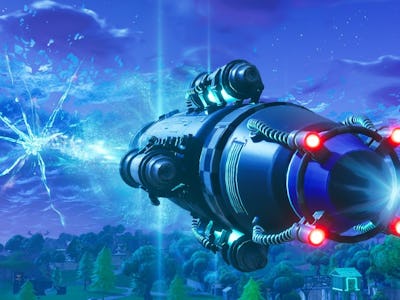 Epic Games
The monumental Fortnite: Battle Royale Season X is nearly over, and the biggest question on my mind is whether the next season will be called XI or 11? But everyone else is probably wondering about when the current season will end and when the new one will begin, along with other details like themes, map changes, and more.
Season 9 brought Fortnite into the future, and Season 10 shattered our grasp on reality by introducing weird anomalies like Rift Zones that commemorated 10 Fortnite seasons' worth of events, items, locations, map changes, and more. It's been a whirlwind tour through the history of the game. But all that nostalgia is enough to make us wonder if the next season might leave it all behind.
Could that mean a brand new map in Season 11? Probably.
We'll update this post with every new detail we get about Fortnite Season 11, including theories about storylines, new updates to the game, and any relevant info about the new season.
When do the Fortnite Season 10 Overtime challenges begin and end?
In the version 10.40.1 update patch notes released October 2, Epic Games confirmed that despite Week 10 beginning on October 3, Season X would have Overtime challenges that activate on Tuesday, October 8 at 9 a.m. Eastern. This "Out of Time" mission set will be active until Sunday, October 13 at 2 p.m. Eastern.
Based on information leaked by data-miners, most of the challenges involve reaching specific Season X battle pass tiers, but the more intriguing challenges have players recover a series of recordings left by the Visitor.
This enigmatic character arrived in the meteor that crash-landed many seasons ago, the same figure built the rocket that ripped open the sky and caused all of the Rifts. They might be the one behind all the supernatural events we've seen in the game, and their deeds are probably related to the end of Season X's story and how it leads into the tale of Season 11.
When does Fortnite Season 10 end?
As of this writing, the in-game battle pass countdown indicates that Season X will end on October 12. However, that could change, based on the end of season event.
What is the Fortnite Season 10 event?
Within the last two weeks or so of every Fortnite season, Epic Games hosts some kind of cataclysmic in-game event. Towards the end of Season 9, there was "The Final Showdown," an epic battle between the giant Cattus kaiju and a mecha robot constructed at Pressure Plant. The robot defeated the monster with a sword, and its remains are still pinned to the earth with the blade in the middle of the map.
In early October 2019, construction began on a rocket in Dusty Depot, and by October 6, a countdown timer had appeared above the rocket. That's scheduled to end on October 13 at 2 p.m. Eastern, after the presumed end date of Season X. Because of this, it seems likely that this date and time will be the true end of Season X — and the end of an era.
Several batches of Fortnite leaks indicate a slew of new named locations, leading many to assume that Season 11 could include an entirely new map. Given the commemorative tone of Season X and all the language about "The End" in various missions, that feels like a strong possibility.
When does Fortnite Season 11 begin?
While Season X will likely end on October 13, the new Season 11 may not begin immediately. Usually, Epic Games will share cryptic teasers in the form of images posted to the official Fortnite Twitter account less than a week before the actual launch date. Be on the lookout for those over the next week or more, as they usually offer the first official confirmation of the new season's start date.
In the past, Fortnite: Battle Royale seasons usually end and begin in the early hours of a Thursday morning. If that holds true for the transition between Season X and Season 11, then the new season might start on Thursday, October 17, when Epic Games takes the game offline around 4 a.m. Eastern to install the new update.
What is the Fortnite Season 11 theme?
We have no way to know what Season 11's theme is just yet, but I'll go out on a limb to say it'll be something like "Brave New World." There's a lot of circumstantial evidence to support a new map in Season 11, and various leaks also support that. That could look like just about anything, but rest assured that there'll be a lot of new stuff whenever Season 11 does launch.
How much will the Fortnite Season 11 battle pass cost?
Fortnite: Battle Royale might be free to play, but for players that want access to the premium Battle Pass and all its associated challenges, purchasing the pass costs 950 V-Bucks. That converts to about $9.50, but most players will have to buy a V-Bucks bundle that costs $9.99 for 1,000 or one of the bigger bundles that offer better deals.
**Fortnite: Battle Royale Season 10 should begin on or around August 1.