Relive the 'Fortnite' Monster vs. Mecha Battle in Epic Fan-Made Video
The definitive viewing experience for the greatest 'Fortnite' event yet.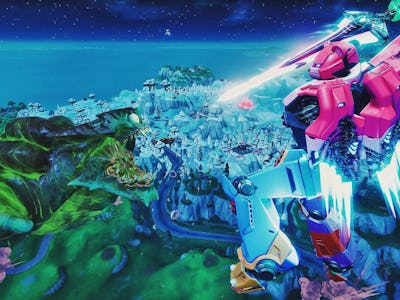 Epic Games
The biggest live event in Fortnite: Battle Royale history happened on Saturday: A monster movie showdown between a giant cat and a robotic dog. Pacific Rim, eat your heart out.
For fans that missed what Epic called "The Final Showdown," one Reddit user has the definitive way to witness the battle. A new video, edited by u/3xiler, chronicles the smackdown between Cattus, the one-eyed kaiju once frozen under Polar Peak, and Doggus, the big robot assembled at Pressure Plant.
For fans who participated in the event themselves, the action was hard to follow because of their limited POV. But thanks to the new video, fans can watch Cattus blast Doggus with a toxic breath and rip off one of his arms, while Doggus retaliates with dozens of rockets before harnessing the power of the Vault to draw a massive sword to kill the kaiju.
In the build-up to the confrontation, a countdown clock was located atop the many Sky Platforms. When the time came, players were able to load into a special game type called "The Final Showdown."
Using jetpacks with unlimited fuel, players loaded into a match where the first team to reach 200 eliminations won, but they couldn't attack one another until after these two behemoths finished fighting.
Here's the video edit of the event that documents the fight in spectacular fashion. What could it all mean for the upcoming Fortnite Season 10?
Some kind of event like this typically occurs towards the end of each Fortnite season, which usually leave lasting repercussions. So, what's new in the world of Fortnite in the aftermath of the Final Showdown?
The fight between Cattus and Doggus left little collateral damage on the map. But there is now a massive monument to their confrontation. Cattus' flesh turned to ash upon its death, leaving a huge skeleton behind with the giant sword stabbed through its face. This new landmark will no doubt remain popular with players.
Over the vault at Loot Lake, however, there's now an orb of crackling energy that seems to be growing larger and more unstable over time. Rest assured that something will happen to this orb that leads into the start of Season 10, and we can expect a lot to happen with it over the next week.
For any fans out there who prefer an anime-inspired visualization, here's a video that redditor u/ARealSnake created for the event:
Fortnite: Battle Royale Season 9 should end on July 31 with Season 10 starting soon thereafter.