'Stranger Things' Season 4's first trailer is full of clues
Is Hopper still alive? Where will Season 4 take place? And when is the release date? We may already have the answers.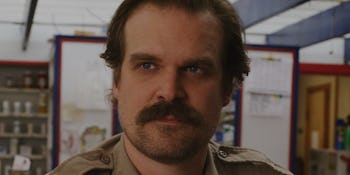 I know what you're thinking: Didn't Stranger Things Season 3 just come out? Well, first of all, that was four months ago in July, and second, we don't actually know when Season 4 is coming to Netflix. We just know it's definitely happening thanks to a new 46-second teaser that's loaded up plenty of clues and Easter eggs.
I'm Jake Kleinman and this is Multiverse, a twice-weekly newsletter about movies and television. This week, we're talking Stranger Things, starting with an obsessive breakdown of the Season 4 teaser. After that, we'll go over some key details from Season 3 that you might not remember.
But first: Who's your favorite Stranger Things character? You can share your answer on Twitter (where I'm ready to fight anyone who doesn't pick Alexei) or, if you prefer, just email me directly at jacob@inverse.com and I'll feature the best responses in next week's newsletter.
This is a recreation of Inverse's twice-weekly newsletter, Multiverse. Sign up for free.
D'Artagnan, I have a feeling we're not in Hawkins anymore
The spooky new trailer kind of says it all. Stranger Things is leaving the small Indiana town where it all started, but where will Season 4 take place? We have to assume at least some of the show will still occur in Hawkins, but the teaser trailer makes it seem like we'll be going deeper into the Upside Down than ever before. Then again, as Inverse TV writer Tres Dean points out, there are plenty of earthly locations teased in Season 3 where the show could be headed. Read more.
Meanwhile, in the real world, Stranger Things star David Harbour seems to be teasing a pretty big twist for his character, Sheriff Jim Hopper, who famously "dies" at the end of Season 3. Is Harbour dropping spoilers on Instagram? It wouldn't be the first time…
Oh, and that new Stranger Things trailer might just reveal the Season 4 release date, and it has everything to do with a very creepy clock. You're going to want to put on your tinfoil hats for this one. It's about to get weird. Read more.
Stranger Things summer reading
Hungry for more Stranger Things? Here's even more info to keep you busy while we wait for Season 4.
First, check out these Inverse interviews with Brett Gelman (aka Murray Bauman) and Gabriella Pizzolo (aka Dustin's summer camp girlfriend Suzie).
Eric Francisco talked to Pizzolo about taking part in one of the most viral moments in Season 3: that Neverending Story scene. "I love the memes," she said. "Keep 'em coming." Read more.
Meanwhile, I spoke with Gelman about his role as the matchmaking "yenta of Stranger Things," his Season 4 theories, and even his character on Fleabag. Read more.
Finally, if you're still wondering who "the American" in the Stranger Things Season 3 post-credits could be, here's our three best guesses (not counting the obvious choice of Hopper):
Still crying over poor, sweet Alexei's death? Don't worry, there's a chance he could be alive and locked up in a Kamchatka prison.
Reader mail from outer space
Last week, I asked who your favorite movie astronaut was and got a ton of replies. You can check out the Twitter conversation here, but I also got a bunch of emails. Some of the top picks included Sigourney Weaver (Ellen Ripley) from Alien, Matthew McConaughey in Interstellar, and Matt Damon in The Martian. (I seriously need to rewatch that movie.) However, my favorite response came from a reader named Rich who had a very unusual pick: HAL from 2001: A Space Odyssey.
Rich also included this message, which I assume is from the actual killer A.I. in Stanley Kubrick's space epic:
HAL 9000: "Jacob, I know I've made some very poor decisions recently, but I can give you my complete assurance that my work will be back to normal. I've still got the greatest enthusiasm and confidence in the mission. And I want to help you."
Thanks, HAL! (And Rich.)
This is a recreation of Inverse's twice-weekly newsletter, Multiverse. Sign up for free.