PS5 vs. Xbox Scarlett: Leak reveal both consoles have an unexpected feature
The console war might never be the same again.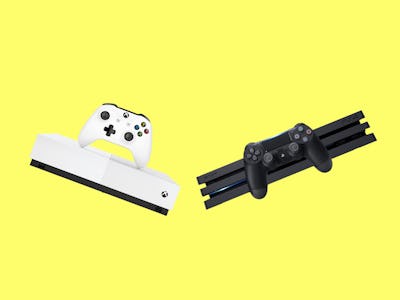 Sony / Microsoft / Danny Paez
The countdown for the PlayStation 5 and Xbox Project Scarlett is nearing the year mark. Sony and Microsoft have already revealed that their next-generation consoles will bring massive leaps in graphics and computational capabilities. But a leak published Tuesday revealed a completely unexpected feature that could come with both devices.
The PS5 and Xbox Scarlett will allegedly be all-in-one live streaming rigs. They've been said to come with a built-in camera to record gamers and be optimized to stream gameplay while running demanding games without any drops in performance.
Information about this reported new feature came from a leaker who claims to be working on an unspecified game for the PS5 and Xbox Scarlett. They've been messaging Gizmodo for the past few months and even sent over fuzzy images of the PS5 developer kit before its design began circulating online.
"Microsoft will make the camera a huge priority, while the [PS5] kit uses older camera technology," wrote Gizmodo. "(It's worth noting that what's in a development kit doesn't necessarily reflect what ships in a final product.)"
In a subsequent update, Gizmodo noted that a Microsoft spokesman denied any camera technology was in development. So take all this with a grain of salt.
The tipster told the outlet that Sony and Microsoft want to let gamers seamlessly create content they can cast online. Gizmodo didn't publish any of the leaker's images, but this push towards streaming is by no means farfetched.
More than 15 million users reportedly watched streams on Twitch every day in 2018. YouTube has long been trying to match Twitch's popularity with gamers. Plus, Microsoft recently signed a multi-million dollar contract with popular streamer Tyler "Ninja" Blevins to have him exclusively live stream on Mixer, the company's streaming platform.
The audience base is there, but a large majority of streamers create their content on PC. Computer rigs are far more capable of rendering games and streaming without sacrificing quality. But Sony and Microsoft want to put PC-grade streaming capabilities in the hands of console gamers.
"Microsoft's camera is allegedly capable of 4K resolution with just a two-frame latency between what is recorded and what appears on a stream," wrote Cranz. "(The current Microsoft Kinect camera gets about 8ms to 10ms of latency.) The tipster claims Microsoft is showing off the capabilities of the camera using a Snapchat-like demo that changes with the in-game lighting."
Little was mentioned about the PS5's streaming solution, only that the camera on the dev kit is lower quality than that expected in the Xbox Scarlett.
Microsoft does own Mixer, so it's natural that it might go a little harder on streaming hardware than Sony. But both consoles are still a year out, so there's plenty of time for improvements.
The days of only battling over, which console has the best exclusive games and graphics might be numbered. The next-gen console war could involve the quality of streaming equipment the PS5 and Xbox Scarlett deliver to gamers.