To make a "true" Harley Quinn, this DC writer performed a forensic profile
Kami Garcia, writer for 'Joker/Harley: Criminal Sanity,' reveals how she broke down the famous Harley Quinn in her new true crime-inspired thriller.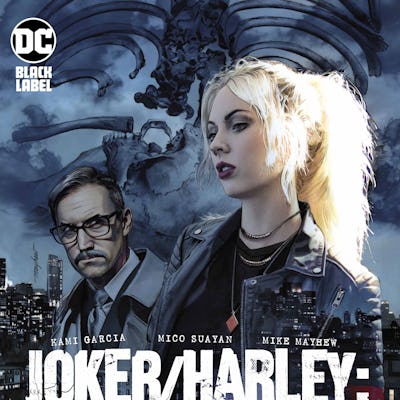 DC Comics
You're about to meet a Harley Quinn unlike any you've seen before. Gone are the red and black onesies, giant hammers, and toxic affections for the Joker. As series author Kami Garcia tells Inverse, "I wanted her to be a threat to the Joker."
On October 9, under the adult-oriented imprint Black Label, DC will release the first issue of Joker/Harley: Criminal Sanity, a stand-alone tale separate from the DC Universe. Written by Garcia and illustrated by Mike Mayhew and Mico Suayan, this new spin reimagines Harley Quinn not as a villainous siren, but a tough-as-nails forensic scientist for Gotham P.D.
After the murder of her best friend, Harley embarks on a pursuit of the elusive Gotham City serial killer known as the Joker. Ditching the jester make-up and donning a leather jacket that would make Jessica Jones envious, Garcia promises a Harley Quinn who will not fall in love with the Joker.
"This is not a romance in any way, shape or form," she says. "This is hyper-real. She knows what he is, she knows he's a psychopath, she knows he's totally incapable of love and empathy. She is hunting him. It's more of a Batman dynamic, she is his adversary, his biggest threat."
Meanwhile, Garcia describes her Joker as a "narcissist" who enjoys the challenge of Harley Quinn. "He recognizes she's good. She's not a beat cop. He doesn't think she's gonna catch him, but it's not challenging to have someone pursue you who is an idiot. He likes she gets close."
But to write a Harley Quinn who could stand up to the Joker — who's currently scaring moviegoers in Todd Phillips' new movie — Garcia needed to rethink a comic book icon. With the help of close friend Baltimore psychiatrist Dr. Edward Kurz, the two profiled Harley Quinn in an effort to "reverse engineer" a story. Their efforts are reflected in Criminal Sanity, in which Garcia reveals the making of a survivor.
"We profiled Harley, because I wanted to make sure this adult version was psychologically true and real," Garcia says. "Everything about the character will go back to the profile. It will be as if you are reading a profile of a real person, and it will match up."
The comic will also do something few stories ever do: Factually define terms like "psychopathic" and "psychotic." Halfway through the first issue, Harley Quinn gives a lengthy, gruesome breakdown to the meaning of terms like "psychotic." To Garcia, the Joker isn't psychotic, and to describe killers — real or fictional — is a disservice to the mental health field.
"There's so many films and TV shows where we romanticize killers, one of the problems is that people believe you're mentally ill," Garcia says. "I've argued with people even before this book, being mentally ill does not make you dangerous. Being mentally ill does not make you a killer."
She adds, "When people are throwing terms around, it bothers me. I think the Joker is scary because he's not mentally ill. He's not psychotic. I didn't even consider the idea that he was going to be mentally ill. I wanted this to be a choice, like many serial killers, where he's not doing this because he's psychotic, but because he likes it."
Garcia is resistant to spill more details of her Harley Quinn profile, as it pertains to some twists in the story yet to be revealed. But Garcia does say that "you will learn that she had an unhappy, abusive childhood."
Explains Garcia, "You have a dysfunctional family, you can't trust your home life, and your best friend in the world — the only person you can count on — gets killed. If you go through all these experiences, what do you get? She is a survivor. She's intelligent, formidable, strategic, and the kind of person who has learned these skills that make her better at the things she does."
Created by Paul Dini for the Emmy-winning Batman: The Animated Series from the '90s, Harley Quinn has soared in mainstream popularity thanks to her appearances in comics and on the big screen, played by Margot Robbie in the 2016 film Suicide Squad and the 2020 film Birds of Prey. Garcia has mixed feelings about Robbie's portrayal, but she is compelled by one thing.
"There were moments where this whole 'Philly Harley' is a put-on. Margot Robbie gave her a smart edge," Garcia says. "She would do something unexpected and also had a mental, emotional toughness. 'Even when the Joker's been killed, I'm going to keep going.' I liked that."
On Harley Quinn's enduring popularity in 2019, Garcia attributes it to Harley's story of survivor. "She is a touchstone for a lot of people," she says. "She's an icon for a lot of women and girls that are survivors."
A survivor of abuse herself, Garcia says Harley Quinn "embodies the idea to remake yourself."
"I think she really is an icon for a lot of people, the idea that, No one can ruin me," Garcia says. "A lot of people are very critical of why a woman would stay in an abusive relationship. She's weak, she doesn't have self-esteem. They don't understand the danger in those situations. For a lot of people, not only do you survive that situation, but you are reborn."
She adds, "I often meet women and girls who identify with Harley Quinn. As someone who was abused, it becomes a part of who you are. A lot of survivors say that the scars become your armor. I think she really is an icon for a lot of people. That's why the idea of emancipation, the evolution she's taking now, people are excited. Because we are saying, we don't think you're ruined. You're not broken. You survived. You are a badass."
Joker/Harley: Criminal Sanity #1 hits shelves on October 9.