Movies Transform Obscure Heroes Into Money Makers
DC Entertainment proved that screen time, not history makes little-known characters like Harley Quinn huge.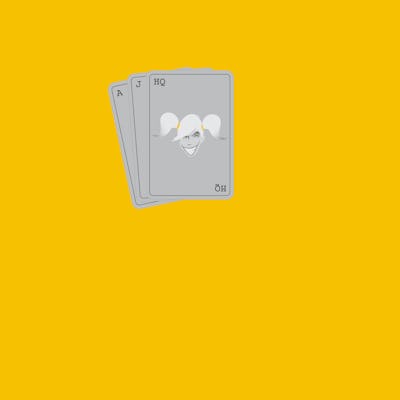 Jamie Crawford,
Harley Quinn first appeared in an episode of Batman: The Animated Series in 1992. In the two decades that followed, she popped up infrequently in DC Comics canon, usually as a victim of the Joker's abuse, rarely with a storyline of her own. Harley briefly became the poster girl for America's failed public dialogue about mental health — her most prominent role to date — but subsequently disappeared for the better part of two years.
In 2015, as DC geared up to reboot its entire comics continuity with a movement Geoff Johns dubbed "Rebirth," Harley and every other every character on the company's roster was given a sort of narrative audit. As current Harley Quinn writer Jimmy Palmiotti describes it, there was a general consensus that she was being underutilized. "We discussed it together, and said out of the gate that we wanted to take her out of Gotham," Palmiotti says "We didn't want her to be a supporting character."
Still, there was no precedent for Harley taking over a storyline. The writers suggested that she could be repackaged as a lead character not only in the Rebirth comics, but also in Suicide Squad, edging DC far out on a limb. They theorized that Harley was worth betting on, especially if given enough narrative space to find her own agency.
One year later, Harley Quinn has emerged as the face of DC, a brighter and darker star than Batman himself, and poised to drive business and fandom in a direction the comics world has never before seen.
Hypothesis
DC executives gave Harley Quinn — now portrayed as more independent and less dark — a solo comic series, set in Brooklyn's Coney Island, casting Margot Robbie in Suicide Squad. In both comics and film, Harley's previously toxic relationship with the Joker was analyzed with a contemporary lens. (As part of their Harley experiment, DC wagered they could keep Harley highly sexualized character.) DC bet money that a character whose superpower was, in a sense, realistic victimhood, could be simultaneously funny, tragic, sympathetic, and horrifying.
For the first time in Harley's history, her storyline in Suicide Squad made it clear to the audience that they were supposed to root against the Joker as he pursued her. In the comics, Harley left him behind completely, starting a relationship with Poison Ivy. But in Suicide Squad, she was a defiant heroine.
Experiment
In her primary comic book storyline, Harley broke up with the Joker at the beginning of 2016. "We moved her out of Gotham and into Coney Island," Palmiotti explains. "When [we] sat down to really dissect what we wanted to do, we decided that making Harley more likable, visually pleasing, fun and a bit naughtier was key."
Harley's ride through her solo comics continued into 2016, Suicide Squad hit theaters in August, and Harley was placed on titles following the Squad before and after the film.
Results
The first standalone Harley issue released as part of DC's 2016 Rebirth sold 400,000 copies, and the comic remained a strong seller each month. In August, Harley was number one at 350,000 copies, outselling Batman and Justice League.
Meanwhile, Suicide Squad opened at number one at the box office, making $133,682,248 in its first weekend. To date, the film has grossed $325,100,054 around the world, and although critics largely panned it as nonsensical, joyless, and annoying, Margot Robbie's turn as Harley Quinn was successful enough that a solo Harley Quinn spin-off was announced soon after Suicide Squad.
Palmiotti says Harley's success across properties is only logical. "What stays true to Harley Quinn across the board with the film, games, and comics is that the character is a wish fulfillment character that is confident, unpredictable, insane, and deep down has a good heart."
And that character is worth millions of dollars. Harley Quinn was the most popular Halloween costume of the year. She was also, notably, the most often Googled costume term in the weeks leading up to Halloween. To close out the year, DC even had Harley walk readers through the 96-page Holiday Special comic as a narrator, signifying that she had become, in just a year's time, the most accessible and exciting character in their pantheon.
What's Next?
Harley's commercial success marks the first instance in the superhero movie craze of a comics and film character gathering steam. The costume data alone shows Harley had an influence on the general zeitgeist, even beyond comic book fanatics. Perhaps most remarkably, DC Entertainment successfully split a female character from the male counterpart she had previously been indistinguishable from. The publisher gave her new storylines that quickly eclipsed the Joker's, thereby proving that not only were studio executives open to heroines — however nuanced they were — but also that the greater public was staunchly pro-Harley.
"I think the success of the Suicide Squad movie and our Rebirth Harley #1 being the top selling title does put extra eyes on the book," Palmiotti says. "But being in this business for over 20 years has taught me not to worry, and just keep doing what we have been doing and not become complacent. We actually have to work a lot harder in 2017 to keep the book fresh, keep the art the best in the business, which it is, and keep with its bi-weekly schedule — all the while trying not to overwork our team in the process. What is expected from us is to keep the ship sailing, and continue to keep our audience buying the book and guessing what is coming next."