All the Naughty Things Harley Quinn Got Into in 2016
Harley's pop culture explosion wasn't just limited to 'Suicide Squad,' though it certainly helped.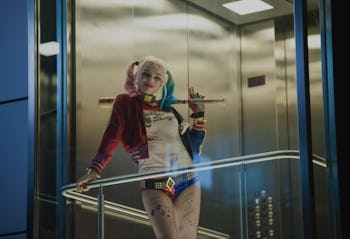 ScreenRant
Harley Quinn began 2016 as a beloved minor character in the DC Universe, but she's since taken over many arenas of pop culture. Her comics have been leading the charge in DC's Rebirth, on occasion even outselling Batman, and Margot Robbie's performance as Harley in Suicide Squad was a bright spot in an otherwise clunky year for the DC Cinematic Universe. She was the most popular Halloween costume in the United States this year, and shared a tumultuous romantic relationship with Poison Ivy.
In order to catch up with everyone's favorite psycho clown, we've compiled an exhaustive look at all the mischief Harley got into this year, across comics, movies, TV, and games. Let's see if there's a method to the madness, shall we?
Comics
In 2016, Harley Quinn appeared as a main character in Harley Quinn, several Suicide Squad titles, Harley Quinn's Little Black Book, Justice League vs. Suicide Squad, Injustice: Gods Among Us, DC Comics Bombshells, and Scooby Doo Team Up.
In her primary comic book storyline, Harley broke up with Joker at the beginning of 2016, and began experimenting with several new hair-dos, as newly single gals are wont to do. She started a vigilante business in Coney Island, joined a punk band, and revealed her obsessive Wonder Woman collection. As writer Jimmy Palmiotti and artist Amanda Conner told Inverse at New York Comic Con, Harley idolizes female superheroes like Wonder Woman, and she fancies herself a good guy, though her temper sometimes gets the best of her.
In all the Suicide Squad comics, Harley served a more serious purpose, leading Task Force X on missions. In one particular plotline, Harley is exposed to a chemical gas that actually restores her sanity, which allowed writer Rob Williams to explore what a pre-Joker Harley may have looked and sounded like.
In DC's Bombshells series, Harley's storyline occurs in the 1940s alongside other DC female heroes transported back in time by writer and artist Marguerite Bennett. Harley fights Joker's daughter in Berlin alongside Poison Ivy. She later joins a group of rebel fighters, entering combat alongside Batwoman, Poison Ivy, Zatanna, Constantine, Raven, Catwoman, and the Huntress.
Overall, Harley's year in comics has proven two things: First, she's a complex enough character to lead more than one storyline to the top of sales charts, and second, she is unpredictable enough when paired with other DC heroes and villains that her cinematic endeavors are full of potential.
Movies
Harley Quinn made her live-action film debut in this year's Suicide Squad, exciting so many fans that actress Margot Robbie put personal stake in a Harley Quinn solo film, which will reportedly involve Batgirl and the Birds of Prey.
Harley's actions in Suicide Squad established her as both a victim and sometimes girlfriend to Jared Leto's Joker, but the film also gave Robbie ample screentime with co-star Will Smith, who plays Deadshot in the DCEU. Notably, Suicide Squad explored Harley's laissez faire attitude toward violence; the Robbie character seemed just as likely to kill someone as she was kiss them.
She also didn't see other female characters as threats, and defended Katana's emotional difficulties to the male members of the Squad. That mindset will serve her well when she goes up against the female members of the Batfamily in her next appearance.
Harley's final appearance in 2016 films was a peaceful one, depicted at the end of Suicide Squad as a prisoner in Belle Reve, though she was still a member of Suicide Squad, and now allowed cappuccino privileges.
Harley also appears on the Lego Batman poster, wearing a Lego-ified costume inspired by her classic appearance in Batman: The Animated Series, but her role in the film hasn't been explored publicly yet.
Television
In the DC Super Hero Girls world, Harley Quinn is simply another teenage classmate among DC's cutesy, animated heroes. Because the sitcom is geared toward children, this Harley is considerably less murderous, and instead preaches concepts like "being yourself" and acting as a "class clown" to DC's youngest fans. She's Wonder Woman's roommate.
Another Harley appearance on Arrow was discussed, and then axed because of the Suicide Squad film, but there are persistent rumors regarding Gotham's plans to introduce a proto-Harley, perhaps alongside the show's Young Joker, Jerome.
Gaming
Harley appears as a playable character (both as classic Harley, and Suicide Squad edition) in Suicide Squad: Special Ops, a mobile game based on the film. She also appears in the re-releases of Batman: Arkham Asylum and Arkham City. She's also featured in Injustice: Gods Among Us Ultimate Edition, which was released this year.
Pop culture
Harley Quinn was practically the face of Halloween 2016. Many costume retailers announced after the holiday that the clown princess of crime decimated sales.
In September, professional wrestler Alexa Bliss debuted a Harley-inspired costume, and the popular account Cat Cosplay debuted a Harley.
Harley had a huge year overall in 2016, and DC is expected to double down on her in 2017. Buckle up, fans, it's about to get flirty (and also possibly dangerous).