How to Make the Perfect Harley Quinn Halloween Costume
Here's the exhaustive guide you're looking for, puddin'.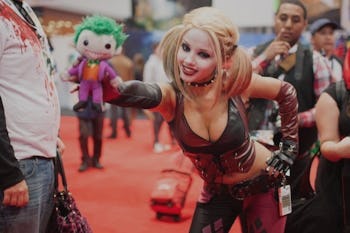 We already know that a vast majority of women this Halloween will wear Harley Quinn costumes to parties, bars, and out trick-or-treating with their kids. It stands to reason that many guys will also be Harley Quinn, and those guys will probably be the same ones who dressed as Heath Ledger's Joker from The Dark Knight back in 2008. How can you ensure your puddin'-lovin' crime jester shines among a pack of Harleys? You've got a few options.
Anything but Suicide Squad
Although Harley Quinn's recent surge in popularity is due primarily to Margot Robbie's pastel version in Suicide Squad, quite a few versions of Harley pre-date the cotton candy colored vixen in hot pants.
For a classic look based on Harley's first appearance in Batman: The Animated Series, go red and black. If you don't want to cover up your hair, you can always allow yourself the blonde pigtails, or even attend your Halloween party as a pre-Jokerized Harleen Quinzel, in a lab coat and cat-eye glasses.
Other alternatives to Suicide Squad-era Harley are Arkham Asylum Harley, WWII pilot Bombshells Harley, and New 52 raccoon-eyed Harley, each with their own accessories.
If your aim is to look deranged and sexy, the aforementioned WWII era Bombshells Harley is probably your best bet. You'll need a bomber jacket (bonus points if you customize it with Joker's face on the back), a red and black bikini top, ski goggles, knee socks, and army green shorts to pull it off.
Of course, if you specifically like Margot Robbie's Harley Quinn, and you want in on that particular aesthetic, perhaps there's no persuading you away from a Suicide Squad costume. If that's the case, we've got pointers for you there, as well.
The Definitive Suicide Squad Harley
No one's going to argue that Margot Robbie's black, torn fishnets and hot pants get-up is anything other than iconic. If you want to rock that look, and you still hope to stand out in a crowd, you're going to need a Daddy's Little Monster tee, a golden Puddin' choker, and DC's copyrighted Harley jacket.
However, even within the confines of Suicide Squad's Harley looks, there are alternative routes to take. Consider, for a moment, going out as Harley as she appears in Belle Reve: pale, wide-eyed, in a bleached orange jumpsuit (tied up sorority style) and with her icy platinum hair hanging in two low pigtails. Don't forget that little heart tat under one eye, and absolutely fill in your eyebrows.
Of course, you could also attend a Halloween party dressed as cappuccino-sipping Harley, from the end of the film, who inexplicably has access to pink and blue hair dye while still wearing her prison jumpsuit. Get yourself a pair of neon pink fuzzy slippers, and curl your pigtails.
Of course, there's also the strip club dress Harley wears while writhing around for Joker's amusement. Pair a glittery black and gold, deep-V minidress with an oiled up wig, drape your body in gold jewelry and don't forget the red lipstick.
It's the little things
Depending on your attention to detail, you can elevate your Harley Quinn costume above the mire of other Harleys based on the quality of your accessories. There is a huge difference, for instance, between a costume retailer's "Harley Quinn wig" and a lace-front cosplayer's Harley wig — and it's just the extra 50 bucks.
Harley loves her Joker-themed jewelry and add-ons, so it's worth perusing the internet for replicas of her choker, bracelets, bat, and other jewelry.
Even if you're limited to wearing underwear, fishnets, pigtails and white make-up, if you call people around you "puddin'", chances are Harley Quinn is so deeply embedded into everyone's subconscious that most drunk partygoers will know exactly who you are. Your version of the clown princess of crime is up to you.