5 Comic Book Storylines Perfect For DC's 'Harley Quinn' Spinoff Film, Post 'Suicide Squad'
A potential Justice League for DC's Leading Ladies is totally in the cards if the Harley Quinn film is done right.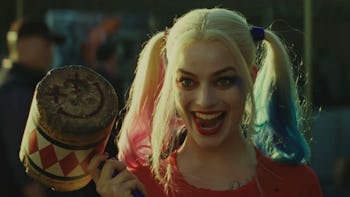 Warner Bros.
Harley Quinn first appeared as the Joker's sidekick in Bruce Timm and Eric Radomski's Batman: The Animated Series. Quickly, however, she became a fan favorite, rapidly spawning an enormous fanbase, solo comic, and detailed backstory. It's hard to imagine a DC universe without her.
Now, she is not only set to appear in this summer's Suicide Squad, where she joins a team of Gotham rogues enlisted by the government to be "heroes", but she will also be getting her own movie within the DCU. Not content to waste the opportunity, DC is said to be developing the film to include a bunch of DC's favorite women heroes and villains, including Batgirl and the Birds of Prey.
What this Gotham-centered gathering of super ladies means is that DC is developing an all-female Justice League-style film…finally. DC has such an amazing opportunity here, not only introducing moviegoers to Batgirl, Black Canary, and Huntress, but also Harley's villain partners like Poison Ivy and a younger Catwoman. Naturally, the Harley Quinn film could lend itself to a lot of different comic adaptions. We've outlined our favorites here.
Mad Love
Probably the most boring story to adapt, this is Harley's origin story when she was still a psychiatrist at Arkham Asylum assigned to examining the Joker. But hey, comic book movies love an origin story!
After a series of mind games, Joker quickly turns the former Dr. Harleen Quinzel M.D. into his accomplice in crime, as the reborn Harley Quinn. From the looks of the Suicide Squad trailers, it appears that parts of this story will be included in the upcoming film, and therefore might not necessary for a full film adaptation. This is good because it opens things up to tell more relevant and exciting stories like…
Harley Quinn (The New 52)
The current Harley Quinn solo series is keen on escaping the shadow of the Joker's presence in Harley's life, opening up the story for her to regularly team up with favorites like Poison Ivy. The comics certainly seem to be taking cues from Suicide Squad having just recently updated Harley's design to match Margot Robbie's in the film, with the platinum blonde hair with blue and red highlights. If DC were to make a film anchored solely by Harley Quinn, they would do well to look at her ongoing solo series.
Birds of Prey
If DC wanted to use the Harley film and try to launch as many DC heroines as possible, Birds of Prey would be the obvious choice, particularly Gail Simone's run which added brutal anti-heroine Huntress to the team. There are few caveats to this story, however.
Adapting Birds of Prey comes with having Barbara Gordon already paralyzed by the Joker due to the events of The Killing Joke. In Birds of Prey, Gordon is already the wheelchair bound, information broker Oracle, while Huntress and Black Canary dole out the physical justice. We can see this avenue working out for DC, if the company is keen on establishing Jared Leto's Joker as a serious big bad across their revamped plans for the Batman films, but it would be silly to introduce Batgirl as Oracle if they wanted to maximize the impact of their heroines.
Gotham City Sirens
If Suicide Squad turns out to be the success DC films sorely needs, perhaps they'll double-down and adapt Gotham City Sirens, a comic that stars Harley Quinn, Poison Ivy, and Catwoman as partners in crime. While Catwoman often takes assumed leadership of the group, Gotham City Sirens benefits from being the closest to Suicide Squad in that each of its characters are typically committing crimes rather than fighting it. Plus, Gotham City Sirens also gives the filmmakers a chance to bring in the magician Zatanna into the fold, which would frankly be super cool to see.
Gotham Girls
In 2000, a series of web-exclusive flash animations were made by the team behind Batman: The Animated Series that starred the same trio in Gotham City Sirens. Taking place in the DC Animated Universe, it would be a cool avenue to venture seeing as though Harley Quinn was created for the animated series to begin with. Plus, Gotham Girls has the added benefit of having the Sirens face off against Barbara Gordon as the fully-fledged Batgirl, as well as other DC heroines like Renee Montoya and Zatanna.
However DC wants to pursue its solo Harley Quinn film, the character has a rich comic history of teaming up with some of the best DC Comics has to offer in their women led comics. Whether she's palling around with the likes of Ivy and Catwoman, or hilariously butting heads with Batgirl and Black Canary, Harley Quinn anchoring a female-centric film for DC is almost too perfect, and it will be exciting to see how the project develops post-Suicide Squad.