Harley Quinn Humiliates Red Tool in This DC Comic Exclusive
Harley Quinn busts up her own forced wedding to Red Tool and yells "holy nupti-olees!"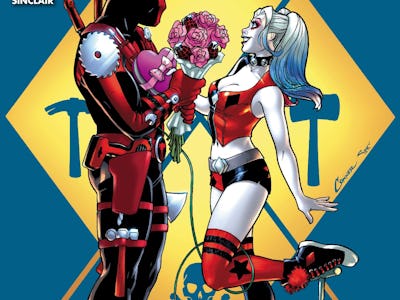 Holy spinoff-iolees! Fans are currently buzzing with Harley Quinn hype, as Warner Bros has announced they're working on a Gotham-based spin-off film. The flick would feature the fan favorite character (Margot Robbie) alongside Gotham's other female heroes and villains, including Batgirl and Birds of Prey. This is, for comic book film adaptations, depictions of gender in action films, and the still-wavering DCU, gargantuan news, and a giant, hot-pants-wearing leap in the right direction.
On the comics front, Harley Quinn will take down Red Tool in issue #28 this week, which hits stands on Wednesday. We've got an exclusive look at the comic from DC, written by Jimmy Palmiotti and Amanda Conner, and illustrated by John Timms.
This particular Harley is significantly more independent than the character who appeared in Batman: The Animated Series. Though The Joker does appear in her comics, he's depicted as an asshole ex she made the mistake of dating, as opposed to her "puddin'". In the preview below, it's obvious that Harley still has run-ins with lousy would-be romantic interests; those relationships usually end with her serving each dude a good beat down, as she does here.
Harley Quinn, Issue 28, will be available for digital download and in comic stores this Wednesday.