How To Find a War Story in Harley Quinn's Bedroom Eyes
DC Bombshells writer Marguerite Bennett tells Inverse how she found an engaging story in a collection of sexy statues.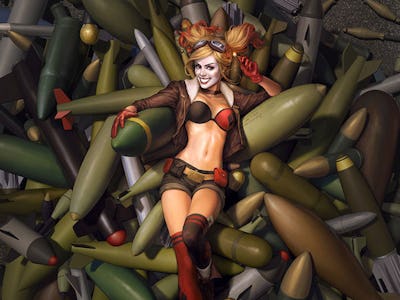 Comics creator Marguerite Bennett probably knows more about the women of Gotham than anyone, including Batman. Since 2015, she's been studying DC Collectibles' WWII era, pin-up style figurines in detail, tasked with writing the comic project that brings them to life. DC Comics Bombshells, with art by Marguerite Sauvage, has grown from its initial gimmick — essentially the graphic novelization of a toy line — into a sexy, funny story about women in wartime. The series features a cast of revolving artists, including Sauvage, Mirka Andolfo, Laura Braga, and Sandy Jarrell. In addition to the art team, Bennett says the project owes its success to the characters themselves.
"Harley Quinn is bigger than any writer or artist," Bennett tells Inverse. "I try to take a look at every iteration of a character from different artists, but when I sit down to write a new character [in Bombshells] I put the statue on my desk. I look for little signs that could indicate a relationship or a backstory: a belt, a necklace." It might be worth mentioning that the Bombshells are often wearing little more than a belt or necklace, but that's neither here nor there.
Bennett is not just comfortable with adapting the figurines' sexuality to the page— she enjoys exploring its nuances. "I'm queer, and I love writing about female sexuality. I've always been an enthusiastic fan of the Bombshell designs — they took this aesthetic and gave them straight power. I hate the word 'empower' because it suggests a woman's power was given to her, and could therefore be taken away, so these characters aren't empowered. They're just powerful."
Bennett points to the Bombshells universe's Poison Ivy, whom she's written as engaged in a loving relationship with Harley, as a prime example of the series' innovative approach to sex. "In her statue, she's in a reclined pose, inviting you to look at her, but there's this sense that if the viewer does anything more than look, she can and will strangle you."
Poison Ivy and Harley are just two of the villains Bennett has written into her Bombshells series, and she explores their capacity for violence in addition to the lust or desire they might feel. "A lot of writing a villain in the Bombshells universe is really fun. We've got this idea of nature vs nurture, as in, what part of Harley's personality is going to translate into a world divided by the second World War? I get a lot of freedom for revision, because some origin stories carry over, and others don't."
The core of the character, divorced from each one's relationship with other canon superheroes Joker or Batman in Harley's case — has to stay the same in Bombshells's alternate timeline, so it's largely up to Bennett to determine what that is. Sometimes those choices are simple, like letting Ivy keep her powers during WWII. Others are more playful; Bennett has written Batwoman, for instance, as a WWII-era baseball-hungry, literal Bat Woman, and the women typically affiliated with Batman in DC Comics are a gang of athletic, self-professed Batgirls.
Bennett's villains are about to "kick into high gear," in the Annual, she says. "We're introducing a coven of three primary villains, including Vampire Batgirl, Enchantress, and Ravenger, and we'll launch into a new arc set in the North African theater of combat, with a group led by Vixen, Catwoman and Hawkgirl. The philosophy surrounding Batman in Gotham is that his coming triggers a rise of super-villains, and that's what we're playing with."
DC Bombshells Annual #1, with art by Elsa Charretier, hits comic book stores August 31. DC Bombshells #17 is available September 14.