'DC Bombshells' Expands, Introduces 'Suicide Squad''s Katana Alongside Harley Quinn
DC Comics allowed feminist-friendly writers to co-opt their rockabilly pin-up aesthetic, and it's a non-stop cash explosion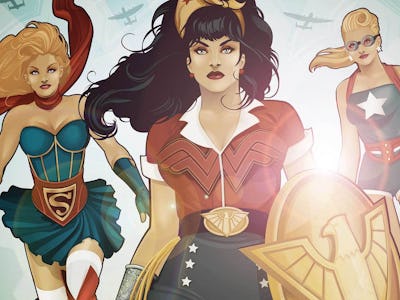 Back in 2013, DC Collectibles released a line of female hero figurines, styled as 50s pin-ups. The series sold like hot cakes to the publisher's targeted demographic — men who are young, dumb, and full of '50s nostalgia, apparently — but the Bombshells developed a fan following among young women as well. Many female-friendly alt communities, including the rockabilly scene and decidedly "femme" feminists, have embraced what was once a sexist trope in order to promote body positivity.
When DC expanded its Bombshells aesthetic into variant covers, those flew off comic book store shelves immediately. In a masterful move, the publisher then hired twin, talented Marguerites — Marguerite Bennett and Marguerite Sauvage — to helm a full DC Comics Bombshells comic series. The series gave compelling context to the established pin-up look of each female character (and villain!), by placing the entire DC-Lady pantheon in WWII. Each character remained sexy and playful, but she had an instrumental role to play in international affairs. What's more: the DC Comics Bombshells are legitimately funny.
DC just announced this morning that they'll be expanding the Bombshells universe even further, by introducing Suicide Squad's Katana alongside her sometimes-buddy Harley Quinn. The line of busts released as part of the expansion are significantly less exciting — one great way to take a female character's agency away is to literally remove her arms — but the collected design book, The Art of DC Comics Bombshells, is legitimately thrilling.
As Bennett told THR, "The Bombshells comic is set in an alternate World War II era where the women come first — where no heroine is derivative of a male counterpart — and I think that's why the characters and stories have really resonated with fans. Each heroine has her own senses and her own limits. No two will have the same feelings towards the nature of power, beauty, modesty, self-actualization, sensuality, etc. They don't have to be role models, love interests or archetypes. They get to be real, complete with flaws and failings and joys of their own." There's a lot to be said about pin-up visual rhetoric and the power shift; the Bombshells comics depict their heroes as both posing for a male viewer and viciously tearing into male and female antagonists, so something very complex is at play.
Introducing Katana, in particular, will likely complicate the Bombshells mythos, as she's traditionally a Japanese character and will function as such in the comic's alternate look at WWII. Though it's a lofty goal, if anyone is prepared to synthesize competing cultural narratives, it's the creative team on Bombshells.