Why to Care About Black Panther Even if You Think Cap Sucks
New to Wakanda? These are the best modern comics to read where the Black Panther is at his best.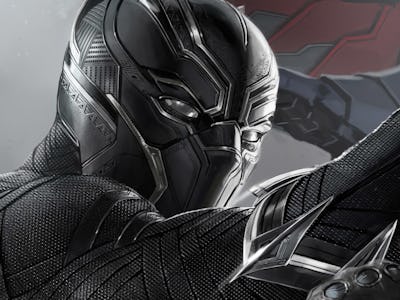 Marvel Entertainment
Now that the dust has settled on Marvel's Captain America: Civil War, standing tall is Chadwick Boseman's regal T'Challa, prince of Wakanda and possessor of the ceremonial warrior title Black Panther. After fighting alongside Iron Man against Captain America's squad, Boseman will headline as T'challa in his solo movie Black Panther, directed by Ryan Coogler (Creed), out on July 6, 2018.
So yes, it'll be a while until we see B. Panther again, but fret not. As one of the best and most important superheroes in the Marvel Universe since his debut in Fantastic Four in 1966, there's no shortage of amazing comics starring T'Challa to keep new Panther fans occupied. At least until his movie releases in theaters.
Black Panther: A Nation Under Our Feet by Ta-Nehisi Coates (2016)
There's no time like the present, and Marvel's current Black Panther is a must-read. Written by National Book Award-Winner and correspondent for The Atlantic Ta-Nehisi Coates, this comic presents a T'Challa struggling to lead a Wakanda in crisis. The first issue came out last month and issue #2 hits this week.
Black Panther: The Client by Christopher Priest (1998)
One of the definitive interpretations of the character in the modern era, Priest's entire run on Black Panther reinvented T'Challa for the modern age. Beginning with "The Client" where Panther investigates a grisly New York murder, Priest's book eventually spans the globe while fully exploring Wakandan culture and religion. Mark Texeira's illustrations in "The Client" set the stage for what would become Black Panther for today's generation.
You can start reading Priest's whole run with Marvel's newest re-issue, available on Amazon.
Black Panther: Enemy of the State (1999) and Enemy of the State II by Christopher Priest (2002)
Both Enemy of the State stories from Priest feature enough action to satisfy thrill-seekers while offering the same political intrigue comics aren't usually credited for. In the first Enemy of the State, Black Panther is caught between the U.S. Government and a Wakanda that would pit Panther against his former Avengers teammates. Enemy of the State II pits Tony Stark against T'Challa, with Wolverine, of all people, thrown into the mix.
Who Is Black Panther? by Reginald Hudlin (2005)
In the mid-aughts, Marvel tapped House Party and The Great White Hype director Reginald Hudlin to pen Black Panther, which he did until 2008. Like Priest's book, Who Is Black Panther? helps reintroduce the character after Priest's lengthy turn at the helm. Unique about Hudlin's take was stressing Black Panther as a mantle, and that one day someone will take over from T'Challa. But today is not that day.
Keep reading Reginald Hudlin's run and you'll see Black Panther marry Storm, to the delight and also dismay of fans. In fairness, it didn't exactly make the most sense.
Hudlin's run on Black Panther is available on Amazon.
Black Panther: Secret Invasion by Jason Aaron (2009)
During Marvel's Secret Invasion arc when shape-shifting Skrulls revealed they've infiltrated every facet of the Marvel Universe, Black Panther lives up to his role as the pride of Wakanda by uniting his kingdom to fend off the alien force. Wakanda has never been conquered, and they aren't about to start. You can pick it up here.