iOS 13.1: Why you'll want to download Apple's bug-fixing update
This could be the update you've been waiting for.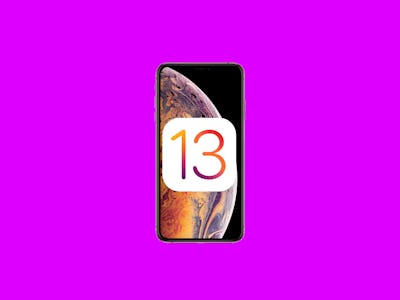 Inverse photo illutration
iOS 13.1 is almost here. Just under a week after Apple released iOS 13, its major software update, the company is expected to follow in rapid succession with an update that adds in extra features and makes some welcome bug fixes.
Apple's latest round of updates, which came pre-installed on the newly-released iPhone 11 range, adds a number of welcome features. The main highlight — or lowlight? — is dark mode, which replaces the brilliant white backgrounds and notifications with darker tones that are easier on the eyes. Coupled with an automatic sunset switch, the addition makes the iPhone much easier to use at night.
There are also a number of welcome quality-of-life improvements. Maps, Reminders and CarPlay are just some of the features that have received major overhauls, with the Reminders app offering even more granular fine-tuning of upcoming appointments. Apps should load faster, Face ID should authenticate quicker, Bluetooth will require your permission before use, and Siri should be less robotic than before.
But the original launch of iOS 13 was notably rough, with fans complaining about bugs and flaws. It's perhaps little surprise that Apple is pushing to launch another update so soon after the last.
iOS 13.1: what's new?
The update will add a number of small changes that didn't make the cut for iOS 13:
Changes to dynamic wallpapers.
New icons and changed animations.
Automated actions through the Shortcuts app, which should trigger actions when a set of criteria is met.
Sharing your estimated time of arrival via the Maps app.
General bug fixes, as the company told The Verge, which should make the operating system run smoother.
It's this last point that may appeal most to users. Apple blogger John Gruber wrote on Daring Fireball that 13.0 is "really buggy," going as far as to say "don't upgrade your iPhone to 13.0 — wait for 13.1."
iOS 13.1: when is the release date?
Apple is expected to release iOS 13.1 on September 24, 2019. Based on previous launches, including last week's iOS 13 launch, expect to see it arrive at these times:
10 a.m. Pacific time
1 p.m. Eastern time
6 p.m. British Summertime
7 p.m. Central European time
1 a.m. China Standard time (Wednesday)
3 a.m. Australian Eastern time (Wednesday)
iOS 13.1: how to download even without free storage
To update via your iPhone:
Visit the "Settings" app.
Go to "General."
Go to "Software update."
Confirm the update. At this point, Apple may try to make space on your device for the update, like by temporarily removing apps and redownloading them when the phone restarts.
Enjoy!
If that doesn't provide enough space, there's an alternative method involving iTunes.
Plug your iPhone into your computer with a USB cable.
Open iTunes, then visit your device.
Check "Check for Updates."
Follow the on-screen instructions to download and install.
And that's it! The latter method uses your computer's storage to download the file and complete the installation, so you don't need to make any sacrifices. Of course, it might be a good time to go through your device and decide if there's anything you don't really need.