iOS 13: 4 changes you'll hate in Apple's dark mode-touting update
The new update might not be to everyone's tastes.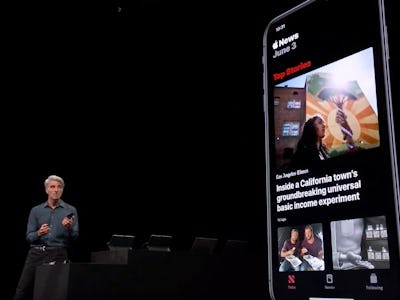 Apple
iOS 13 is here, but should you upgrade? Apple's latest software update hit servers on Thursday, rolling out to users with an iPhone 6S and later. But with reports of a new update on the way, and a number of gripes with the first release, it could be worth waiting a bit.
There's a lot to love in the new update, which ships in the same week as the new iPhone 11. There's a new dark mode, which dims the interface and makes it easier on the eyes. There's a redesigned Maps app. The new App Store includes support for Apple Arcade, the $4.99 per month service that offers access to over 100 exclusive games. Apple also touts faster performance, including Face ID that unlocks 30 percent faster.
Apple has made a number of welcome changes, but some of the new quirks in iOS 13 may not be to everyone's tastes. Here's what to watch out for.
4. Get ready for Bluetooth pop-ups
iOS 13 introduces a new round of permission alerts. Apps will now trigger a prompt before they can access Bluetooth connectivity.
This means that, for a while after updating, you may be inundated with new pop-ups as you use your regular apps. This does serve a useful purpose, as these apps can use Bluetooth to help pinpoint your location. That means you can restrict suspicious apps from unnecessarily using Bluetooth connections. For a while at least, though, you may find it a touch exhausting to decide for each app whether they really need access to the short-range wireless connection.
Bluetooth pop-ups: a much-needed protection, but probably a pain for the first few days.
3. Reminders will be broken for a while
Do you use the Reminders app? It's been updated with new smarts, so users can tag alerts in messages, quickly organize them using a new tool bar, and new categories on the home screen. Pretty cool, right?
There's just one problem: unless you opt-out of upgrading the app, it breaks syncing with older versions of Reminders. That means unless you're running iPadOS 13 on your iPad and macOS Catalina on your Mac, you'll see a shortened reminder list on those devices with two tasks. One says "The creator of this list has upgraded these reminders," and the other, for some reason, says "where are my reminders?"
Unfortunately, you won't be able to upgrade to either of those releases yet. iPadOS 13 isn't launching until September 24, and macOS Catalina won't arrive until an as-yet-unspecified date in October.
Fortunately, Apple does give you the chance to postpone upgrading your list to the new version until the other devices have received the update. It's probably worth doing this for now, as there's no way to reverse the upgrade. It does mean, however, that for now you'll miss out on those new features.
2. Goodbye, 3D Touch
The iPhone 11 has dropped the pressure-sensitive 3D Touch feature across the board. This follows on from the iPhone XR, which also dropped the the feature. It originally debuted on the iPhone 6S in 2014 as a way of accessing new shortcuts, but it seems Apple has decided to move the smartphone line in a different direction.
Although iOS 13 does support 3D Touch for devices that still support it, it's clearly on the way out. Context menus have been pressed together so that, in many cases, a hard press results in the same pop-up as a long press. That means if you hold down on an app icon in the home screen, it will have the same effect as pressing hard — popping up a menu with context-sensitive shortcuts for the app in question, with an option further down the list to rearrange app icons. Rearranging the icons means now taking two presses, or pressing and moving the icon specifically when the phone vibrates.
The launch of the iPhone XR last year signaled that Apple was not too keen on keeping 3D Touch around for too long, and the feature never even made its way to the iPad. For those users that still have a 3D Touch phone, however, they may find the new simplified interaction setup a tad frustrating.
1. The bugs
iOS 13 has been a rough beta process. So rough, in fact, that developer Steve Troughton-Smith declared its launch "has felt like a super-messy release, something we haven't seen this bad since iOS 8 or so."
Inverse found in its tests that the final version of iOS 13 still contains some issues around app responsiveness — particularly noticeable as the release is meant to double the speed of apps opening. The Verge found in their tests that cellular signal sometimes dropped and smart home devices sometimes no longer worked. CNN reported that a security flaw can reveal contact information without requiring a password or authenticating, a bug that has been known since July.
With all that in mind, it might be worth holding off until iOS 13.1. That update, scheduled for Tuesday, is expected to bring back some features scheduled for the previous release like automated shortcuts and sharing your estimated time of arrival. It could also help resolve some of the issues spotted in this early edition of Apple's latest software update.