Clean Energy Is Not Enough: How Buildings Can Cut Emissions 80% by 2050
A new report outlines how it could happen.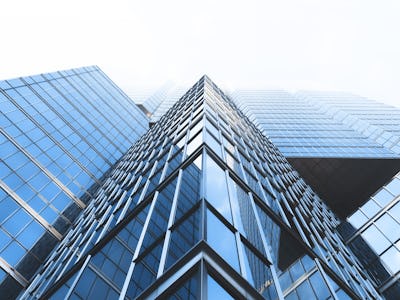 Unsplash / Patrick Tomasso
Buildings could get smarter about energy use and dramatically reduce their carbon emissions, according to a report published Thursday.
A new research paper published in the journal Joule claims buildings could cut their total emissions by 80 percent compared to 2005 levels as early as 2050. The three-researcher team, supported by the United States Department of Energy's Building Technologies Office, identified three key technologies that could help buildings meet these goals.
"Because the buildings sector uses energy in a multitude of ways and is responsible for such a large share of electricity demand, buildings can help accelerate the cost-effective integration of clean electricity sources on top of contributing direct emissions reductions through reduced energy use," Jared Langevin, a research scientist at Lawrence Berkeley National Laboratory, said in a statement.
Those towering skyscrapers are responsible for 36 percent of the United States' total carbon dioxide emissions. That means if the country and wider world plan to meet climate change goals, it will have to reassess its approach to buildings.
It's not enough to simply add renewable energy to the power grid. A 45 percent supply of renewables, aided by the likes of wind and solar, could reduce building emissions by 62 percent. The remaining 10 to 16 percent would come from changes in the buildings themselves, savings in efficiency and redesigns.
After 2018 became another record-setting year for the planet's temperatures, Langevin and his team's recommendations could prove key to avoiding an even worse situation.
Here are the three ways buildings can take action:
The building itself, also known as the "envelope." Retrofitting and upgrading existing aspects of the building can mean a more comfortable environment for occupants. This covers upgrades to insulation, walls, windows and roofs. One idea suggested by the team is air sealing, which reduces cold areas and improves comfort.
Making buildings smarter could help reduce emissions. This would mean using technologies to determine when, where and how much various services run inside the building. These services include cooling, heating, lighting and ventilation.
Switching heat pumps to electricity-powered systems could also help. This would involve moving away from the current fuel-fired heating and water systems found in some environments.
Renewable energy has surged ahead in the United States. In the month of April, it supplied more energy than coal. A report in March also revealed that, in 74 percent of cases, existing coal power plants could be replaced with wind and solar installations for less money. These advancements are big news for reducing emissions, but changes in how people use energy can also offer major reductions.
"While building CO2 emissions are quite sensitive to the greenhouse gas intensity of the electricity supply, measures that improve the efficiency of energy demand from buildings need to be part of the solution," Langevin said. "Getting close to the 80 percent emissions reduction target requires concurrent reductions in building energy demand, electrification of this demand, and substantial penetration of renewable sources of electricity."
Read the abstract here:
Buildings are responsible for 36% of CO2 emissions in the United States and will thus be integral to climate change mitigation; yet, no studies have comprehensively assessed the potential long-term CO2 emissions reductions from the U.S. buildings sector against national goals in a way that can be regularly updated in the future. We use Scout, a reproducible and granular model of U.S. building energy use, to investigate the potential for the U.S. buildings sector to reduce CO2 emissions 80% by 2050, consistent with the U.S. Mid-Century Strategy. We find that a combination of aggressive efficiency measures, electrification, and high renewable energy penetration can reduce CO2 emissions by 72%–78% relative to the 2005 levels, just short of the target. Results are sufficiently disaggregated by technology and end use to inform targeted building energy policy approaches and establish a foundation for continual reassessment of technology development pathways to drive significant long-term emission reductions.