Solar Energy: Historic US Gov't Data Shows Renewables Have Eclipsed Coal
The EIA has released its latest findings.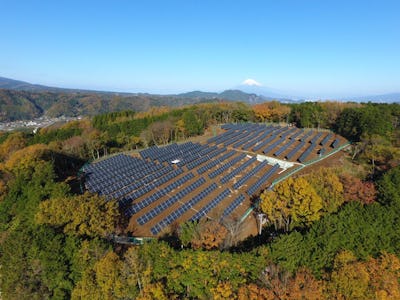 Unsplash / Mark Merner
For the first time in industrialized American history, renewable energy supplied more energy than coal.
The feat, achieved during the month of April, was revealed in new data from the Energy Information Administration published Tuesday. It marks a monumental shift in the way the biggest energy consumer in the world produces its energy, continuing a trend that began to build up speed at the start of this decade.
"Five years ago this never would have been close to happening," Dennis Wamstead, research analyst at the Institute for Energy Economics and Financial Analysis, told CNN in April. A report from the institute in April projected the switch ahead of the official government figures. "The transition that's going on in the electric sector in the United States has been phenomenal."
The figures show that renewable energy, including hydroelectric and solar, produced over 68 million megawatt-hours in April. Coal, by comparison, accounted for just 60 million megawatt-hours.
There is still a long way to go before renewables could account for the majority of energy generation, as the total generation at utility-scale facilities reached nearly 300 million megawatt-hours. Natural gas accounted for around a third of that production.
Despite the long journey ahead, it's an important step toward proving the viability of renewables, and for transitioning away from a dirtier method of energy production.
Renewables in the United States: How It Reached the Crossover Point
The writing has been on the wall for coal production in the United States. Solar and other forms of renewable energy have been gradually dropping in price as economies of scale improve and new technologies make it more efficient. A report in March marked yet another symbolic crossover point between the two.
That report, from San Francisco-based think tank Energy Innovation, looked at coal power plants across the United States. It found that 211 gigawatts of existing American coal energy, 74 percent of all coal production, was "at risk from local [defined as 35 miles] wind or solar, which could provide the same amount of electricity more cheaply." In other words, installing new renewable energy could be cheaper than maintaining the existing coal plant in the majority of cases.
These weren't just small price discrepancies at play. The report found that, in the case of 94 gigawatts of coal production, new wind and solar capacity could undercut the costs by more than 25 percent.
For wind, levelized costs could reach as low as $15 per megawatt-hour, a figure that rises to $28 for solar. Marginal costs for coal varied from a competitive $25 per megawatt-hour to an eye-watering $104.
Renewables in the United States: The Green Gets Going
The Energy Information Administration predicts big things for renewables in the coming years. A January report from the same group stated that wind and solar production accounted for just three percent of total energy generation in 2018, but by 2020 this figure could rise to 13 percent.
That's still a long ways off from complete renewable energy. Tesla CEO Elon Musk has mapped out how the United States could power itself completely on solar using just a mile-by-mile square of land. The company has launched a series of solar roof tiles to encourage more to harvest solar at home, and in some states Powerwall battery owners can share their renewable energy with others as part of a "virtual power plant," reducing dependence on the grid.
In terms of the broader industry, solar is expected to play a big role in the coming years. Wood Mackenzie forecasts solar installs will double in the next four years, from two million in 2019 to four million by 2023. This could be fueled further by rules that require solar on all new homes, similar to those introduced by California.
With 2018 the fourth-hottest year on record, reducing carbon dioxide emissions will require a multi-pronged strategy.