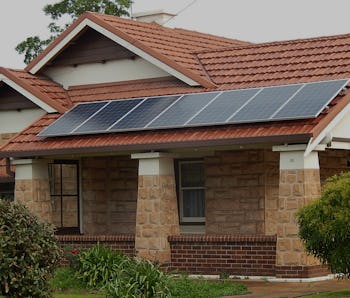 Innovation
The 3 Main Trends Driving the Imminent Solar Energy Revolution
A former SolarCity executive sees some new patterns emerging.
Flickr / mikecogh
You probably haven't heard of Hayes Barnard, but his work could help save the planet. A former executive at SolarCity, the solar panel firm purchased by Elon Musk's electric car firm Tesla in 2016, Barnard has now turned his attention to making solar energy installations more accessible and affordable, fueling the transition onto sustainable energy.
"Climate change is a trillion dollar problem," Barnard, former chief revenue officer of SolarCity, tells Inverse. "So how do we how do we employ as much capital as possible in this space, to help a lot of people go solar?"
As the price of solar has dropped, the market is now starting to focus on what comes next in the quest to reach net-zero carbon emissions. Barnard, who has witnessed a dramatic transformation of the industry in his 10 years of experience, sees three key trends for the next stage of solar. First, companies will make installations easy to buy. Second, governments will begin legislating to mandate solar on new houses. Third, solar firms will attract their existing customers to smart home tools and other means of saving energy. By Barnard's estimation, we're somewhere in between steps one and two.
"10 years ago, solar was a very difficult product for the homeowner to understand," Barnard says. "Fast forward 10 years, it's a relatively simple thing for a homeowner to understand now, it literally just came down to making it make financial sense for them, and simplifying the financial decision for them. But they've seen their neighbors get solar on their home, and they understand how the solar system can generate energy for their home."
Residential solar has exploded over the past decade. Data from the Solar Foundation showed in February that a residential install cost $6.65 per watt in 2010, a figure which had dropped to $2.89 per watt by 2018. Tesla, which now owns SolarCity, announced in April that it was dropping panel prices even further, as low as $1.75 per watt in some cases. These price cuts come as it ramps up production on new products, like solar roof tiles and its Powerwall battery than can store solar energy and provide it at all times of day.
While this progress is rapid, we may need to go even faster, as legislators battle to keep temperature rises below two degrees Celsius when compared with pre-industrial levels. Political pressure is ramping up, particularly in the United States: The International Renewable Energy Agency warned in an April report that annual photovoltaic solar additions, which jumped from 17 gigawatts in 2010 to 109 gigawatts today, need to reach 300 gigawatts by 2030. More needs to be done to encourage solar adoption and cut energy usage.
Breaking Down the Costs
Costs have been the biggest barrier to solar adoption, argues Barnard. While the average homeowner may care about going green, but they also care about the green in their pocket. Loanpal, co-founded by Barnard, focused on the financing problem. It's essentially a finance technology platform that enables solar firms and others to connect with banks and offer a simple monthly price for getting solar installed in a house. Instead of tacking on extra costs like necessary roofing work or rafter upgrades, the integrated system means buyers have one monthly cost that they can use to understand the price of going solar.
"It's very transparent, a very authentic number, they can look at that number and say okay, my total payment with Loanpal is $100, my electric bill is $80," Barnard explains. "And they can assess that first year of savings and whether or not this is the decision they want to make. Part of the solar business has always been, how do we educate?"
Let's say you wanted to install solar panels on your roof. The average cost of installation is $2.67 to $3.43 per watt, but you will break even over time. Of course, figuring out this breaking-even point is complicated, because both solar efficiency and energy prices tend to fluctuate depending on market conditions — with prices rising 15 percent over the past 10 years. If you can't pay out of pocket, you'll also have to find financing, get approved, and weigh the lending costs against your potential savings too. This process can take a few weeks on top of the two to three months to install, so it's not particularly hard to see why many green-minded consumers don't even bother looking into it.
Framing solar installation costs in an approachable monthly payment has arguably been a game-changer: In only 12 months, Loanpal went from pre-launch to financing 21 percent of all residential solar loans in the United States. A staggering 80 percent of the top 50 solar providers are now using Loanpal.
Making the Move
The second aspect, mandating solar, was arguably pioneered in California. The state declared in December 2018 that all new homes built after 2020 should have solar panels included as part of the build. Just nine percent of homes had solar at the time of the decision. Reuters claimed that the requirement will add $9,500 to the cost of building a home, but save $19,000 in energy costs over 30 years.
"Typically what you'll see is California will lead the way on a lot of these green and sustainable energy efficient initiatives, and then other states will follow as they see how these initiatives are rolled out in California," Barnard says, adding that he believes solar on all new homes "will be a trend that I think you'll see other states adopt."
Homes Going Smart
The third trend involves looping back with customers that have already purchased solar, teaching them about new initiatives that could help them save even more. It's one of the ideas the International Renewable Energy Agency highlighted in its April report, calling for more smart meters in the residential sector. Currently, smart meters are in around 25 percent of homes, but the agency wants to see this rise to 50 percent by 2030 and 82 percent by 2050.
"You'll see a variety of new solutions being offered by some of the large solar companies outside of just solar, in order to help that customer understand other ways that they can make their home energy efficient," Barnard says.
It's not yet clear when a so-called tipping point may occur, where more electricity comes from renewables than non-renewables. Barnard says he "doesn't have a good answer" for that one, yet, though it's worth noting that, at least in May, renewable energy generation outpaced coal for the first time ever.
The International Renewable Energy Agency claims that with its plan, the world could reach 86 percent renewables by 2050. Others want more drastic action, like Extinction Rebellion which calls for the United Kingdom to reach net zero by 2025. As part of a multi-pronged approach, solar could help power the new way forward.