Tesla Just Enabled a Clean Energy 'Virtual Power Plant' in 2 States
The Powerwall is spreading itself out.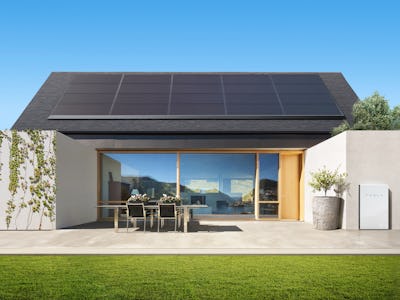 Tesla
Tesla has helped to create a new "virtual power plant" in Massachusetts and Rhode Island, after a new National Grid program went live Thursday. The offer enables owners of the Powerwall home battery to sell their energy back to the grid at peak demand times, which means utility firms don't need to fire up fossil fuels to meet demand.
"I like the idea of being part of the clean energy future," Mike Gingerich, a Powerwall owner in Amesbury, Massachusetts, said in a statement. "Our house will be part of the smart grid. It should help us pay for our system, reduce electric costs, and reduce pollution. What's not to like?"
It's a new level of integration for the renewable energy system, touted by CEO Elon Musk as a way of storing home-generated solar and wind for use around the clock. One Tesla Solar Roof owner in California told Inverse that the roof recharges the battery, then sells surplus energy to the grid for a small return.
This new program, known as "ConnectedSolutions," means firms can tap into registered Powerwalls to plug the gap in energy production. That means firms don't have to resort to starting up "peaker" plants to keep the lights on in an area.
Virtual Power Plant: The Invisible Energy Supply
A "virtual power plant" is nothing new, but it could be a growing means of providing clean energy.
Vermont has a similar scheme with Green Mountain Power. In July 2018, the firm reported that it called on 500 Powerwalls during a heatwave to plug the energy gap. These batteries worked alongside two solar storage facilities and other customer-provided sources to offset 17,600 pounds of carbon. This was the equivalent of taking 5,000 homes off grid, saving customers $500,000 in the process.
In May 2018, Tesla received approval to build the world's largest virtual power plant. The project in South Australia sees 50,000 homes fitted with a 5-kilowatt solar panel system, plus a 5-kilowatt or 15-kilowatt-hour Powerwall 2 battery. The whole system is designed to produce 250 megawatts of power. The homeowners in the scheme don't receive free electricity, instead sharing it around the community so everyone pays around 30 percent less on energy bills.
Virtual Power Plant: How the New Project Could Change the State
The team behind the two new projects is confident that it could help reduce the load on the grid.
"Reducing our carbon footprint to combat climate change requires new and creative solutions for our customers and communities," John Isberg, vice President of customer solutions at National Grid, said in a statement. "We are pleased to have Tesla participate in our ConnectedSolutions program. By discharging customer-owned Tesla Powerwall batteries at appropriate times, we will reduce electric loads when it matters most to curb pollution, decrease infrastructure costs, and make the grid more sustainable."
For Gingerich, the system enables him to protect his home against power cuts. In the winter months, that could help avoid freezing pipes.
"Our Powerwall came online in February 2019," Gingerich said. "Now if the grid goes out during a winter storm our house can go into Island mode and still charge the battery from the solar panels and provide power to the house to run our heating system and we don't have to worry about our pipes freezing."
Solar installations in the United States are expected to double in the next four years, reaching four million by 2023. Prices have also dropped to outstrip coal in most areas of the country. California has also mandated that all newly-built homes include solar, a trend that's expected to spread to other states.
As these new installs come online, they could find themselves part of a growing, invisible power plant.