Can't Wait for 'The Boys' Season 2? 'Doom Patrol' Is Your New Favorite Show
2019 is definitely the year of non-traditional superhero TV shows.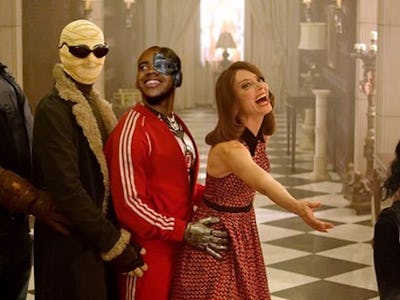 Maybe it's time to give DC Universe, the streaming service made by the legendary comics publisher that launched a little more than a year ago, a shot. For anyone who really loved Amazon's The Boys or Netflix's Umbrella Academy, the excellent and underappreciated Doom Patrol on DC Universe is a must-see.
Here are four streaming suggestions for this weekend, including Doom Patrol, DC's weirdest live-action team-up yet.
Doom Patrol Is Here to Fill the The Boys-Sized Hole in Your Heart
With the recent release of The Boys, it's definitely the year of non-traditional superhero TV shows. Assuming you just binged through all eight episodes of the gory, anti-superhero series, it may finally be time to give the equal parts offbeat and phenomenal Doom Patrol a try.
The DC Universe series follows the often unharmonious team-up of Rita (April Bowlby), Crazy Jane (Diane Guerrero), Cliff (Brendan Fraser), Cyborg (Joivan Wade), and Larry (Matt Bomer) as they grapple with leaving the safety of their home and the fear of embracing their differences. As each character navigates their own haunted past, they come together to learn they're still capable of growth. It's basically Umbrella Academy set within the DC Comics universe and also somehow better.
Narrated by a fourth wall-breaking villain called Mr. Nobody (Alan Tudyk), Doom Patrol unites a team of outcasts to explore shame, trauma, and what it means to be a good person despite evidence to the contrary. You won't regret watching it, though you may decide to cancel your DC Universe subscription as soon as you're done. — Mae Abdulbaki
Get Hyped for The Favourite's Streaming Release by (Re)Watching The Lobster
The Favourite won Olivia Coleman an Oscar for her portrayal of Queen Anne, but before this surreal historical comedy hits HBO on August 3, why not revisit perhaps the weirdest movie from its director, Yorgos Lanthimos. Released in 2015, The Lobster is set in a dystopian future where single people get 45 days to find a new partner, and failure means being transformed into the animal of your choice.
The Lobster is just as weird as it sounds and way funnier than you'd expect, thanks to Lanthimos's sharp direction and an all-star cast including Colin Farrell, John C. Reilly, Rachel Weisz, Olivia Coleman, Léa Seydoux, and Ben Whishaw. The bulk of the movie takes place at a resort where single people desperately search for romance and kill time debating which type of animal they'll choose to become if they fail. (Farrell's character, David, wants to be a lobster until someone explains that he'll end up as someone else's dinner.)
The movie unravels somewhat in its third act after a group of singles decide to make a break for it, but by then you'll already be hooked by the disturbing world Lanthimos has created. You can check out The Lobster now on Netflix, and be sure to catch The Favourite on HBO in a few days. — Jake Kleinman
Get Caught Up with the Gorgeous Ladies of Wrestling in GLOW
If Stranger Things wasn't enough '80s nostalgia for you, the incredible comedy-drama GLOW returns to Netflix for its third season on August 9. Picking up where Season 2 left off, the Gorgeous Ladies of Wrestling leave Hollywood to perform as regulars on the strip in Las Vegas.
The series is a fictionalized telling of the real-life, behind the scenes story of the cult camp classic wrestling program G.L.O.W. For a span of five years, a locker room full of outlandish and totally inexperienced female wrestlers dominated the ring every Saturday morning on TV. But as ridiculous and occasionally offensive as their onscreen personas were, the real women who wore the spandex were just as nutty. A few years ago, we even caught up with some of the real G.L.O.W. wrestlers.
Executive produced by Orange Is the New Black creator Jenji Kohan and starring Alison Brie (Community) and Betty Gilpin, GLOW inhabits its own alternate reality, where the names and faces are different but the heart-to-heart emotions are still the same. It's no Stranger Things, but with the plot moving to sin city in Season 3, things are about to get even stranger.
Watch the first two seasons of GLOW on Netflix before Season 3 arrives on August 9.
Watch Idris Elba as the Heroic Luther Instead of His Hobbs & Shaw Villain
In Hobbs & Shaw, the likable Idris Elba plays a villain who proclaims himself "black Superman," but if you prefer a more heroic Elba, skip Marvel's Thor movies and watch Luther instead. Perhaps the pinnacle of the "hyper-gritty modern British crime drama" subgenre that includes Netflix's The Bodyguard (another show worth checking out), Luther follows a lonely but brilliant London detective who spends most of his time hunting down disturbing, brilliant serial killers.
It may sound simple on the surface, but Detective John Luther is just a utility belt away from going full Batman to take on the terrifying villains that seemingly wander out of Gotham and onto the streets of London. Luther himself is unhinged and brilliant as a protagonist, and the gravitas Elba brings to the role is admirable.
Luther is oppressive in its pessimism, and where similar crime dramas might pad out a season with filler episodes, every installment here feels impossibly grim but oh so satisfying when it's resolved. Season 5 aired on BBC earlier this year, and it included the triumphant return of Ruth Wilson's delightfully menacing Alice Morgan, the greatest supervillain to ever hit British TV. Sorry Moriarty.
Thanks for reading!
Got a movie or TV show to recommend? Email it to me at corey@inverse.com and maybe we'll feature it in next week's newsletter.
If you enjoyed this edition of Multiverse, please consider sharing it with your friends using the link below.