What Happened to G.L.OW. After Its Fall
How the real women's wrestling hit met its untimely end.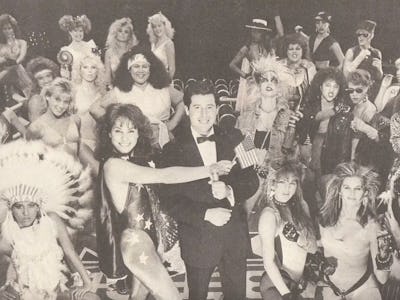 Netflix
For five years in the late 1980s, G.L.O.W., the first dedicated showcase for female professional wrestlers, was a cable TV sensation. The humble beginnings of G.L.O.W. are fictionalized in the new Netflix series GLOW from Orange Is the New Black producer Jenji Kohan, and early reviews are very positive. But the demise of the real G.L.O.W. is a tale worth telling in its own right.
Ironically, G.L.O.W. was the brainchild of two men: TV producer and wrestling fanatic David McLane (who conceived the idea) and Italian filmmaker Matt Cimber, who steered the show's creative direction. McClane was also a close friend of Meshulam Riklis, a casino magnate who once boasted to the LA Times that he had a net worth of a billion dollars, a stratospheric sum 30 years ago (and still not too shabby). Whether Riklis really was worth a billion or not, he had deep pockets and owned the Riviera hotel on the Las Vegas strip. For two seasons, G.L.O.W. was shot on location in the Riviera, before moving to a warehouse (now a Harley-Davidson retailer) just three miles away; then, in 1990, it was the victim of what seemed like a sudden cancellation.
So what happened that forced the end of G.L.O.W.? The reason is less scandalous than one would assume for a wrestling show based out of Sin City. While there were rumors that Riklis had affairs with the wrestlers, which threatened his marriage to actress Pia Zidora, it ultimately all came down to money — some things never change. Financial issues with distributor INI (Independent Network Inc.) as well as G.L.O.W.'s business model cut short the reign of the first women-only wrestling league.
"It basically was some internal problems with INI and in the family for Mr. Ricklis," former star and current G.L.O.W. owner Ursula Hayden explained during an interview with Inverse. Riklis, whose financial difficulties began as early as 1983, "pulled the plug on the distribution company" which led to a suit against INI. "And that's when it all came to a screeching halt," she remembered.
Ultimately, G.L.O.W. could not survive on airtime alone. Unlike most wrestling promotions, G.L.O.W. did not travel often to sell out arenas. It stuck around Vegas, performing to a crowd of just a few hundred paying customers. Although it had a low production budget, it didn't earn enough from the sponsorships it had (the women did commercials for products already owned by Riklis, such as Fabergé cosmetics). In the 2012 documentary GLOW: The Story of the Gorgeous Ladies of Wrestling, Lynn Braxton (who wrestled as "Big Bad Mama") contends that G.L.O.W. made money, but journalist Mike Sempervive of the Wrestling Observer suggests that it couldn't have been all that lucrative, based on his study of the historic rise and fall of multiple pro wrestling organizations.
"If it was such a successful franchise it would have been able to keep going," Sempervive tells Inverse. "Unfortunately it just reached its zenith point and it wasn't able to recover."
Sempervive brings up advertising as one of G.L.O.W.'s failures. Advertising and proper leveraging of the brand also happen to be how Vince McMahon of the World Wrestling Entertainment (WWE) and Jim Crockett Promotions, which later created the Turner-backed World Championship Wrestling (WCW), managed to succeed.
One look at the WWE today — the world's premiere pro wrestling company is valued at around $3 billion — is proof that smart branding and financial planning, even for something perceived as cartoonish as wrestling, can lead to prosperous franchising. "[WWE has] been able to establish themselves as a real brand and create a more dimensional approach to making these women 'Superstars' on the level of the men, at times far more interesting than the men no matter the mistakes they've made," says Sempervive.
Today, G.L.O.W. lives on, at least as a nostalgia brand. It's nowhere near the heights of the WWE, but the cult wrestling brand continues thanks to Hayden, who performed under the identity of "Babe the Farmer's Daughter" during G.L.O.W.'s third and fourth seasons. Hayden acquired ownership from Riklis in 2001 in what can only be described as a stroke of luck.
"I had stayed in contact with Mr. Ricklis over the years, through cards and whatnot, and I asked to borrow the names to do some live shows because some of the girls still wanted to wrestle," Hayden explains. Riklis "was just so done with G.L.O.W." when Hayden reached out to him that he sold it for a song.
Hayden scooped up the rights to G.L.O.W. and has owned the brand ever since. In the mid-2000s, Hayden produced DVDs of old G.L.O.W. episodes, and in 2011 participated in the documentary that helped inspire Jenji Kohan, Liz Flahive, and Carly Mensch to create the comedy-drama series GLOW on Netflix. Hayden also tells Inverse that there were some talks regarding ownership by the WWE, but she wasn't privy to those conversations at the time.
"I think they were a bit more interested in us than we were in them," she says.
GLOW is now streaming on Netflix.
Update: A previous version of this article incorrectly stated that G.L.O.W. did not tour. The promotion did, in fact, travel around Nevada towards the end of its television run. This error has been corrected.