We Caught Up With the Original Women Wrestlers of 'GLOW'
Godiva, Hollywood, Little Egypt, and Babe the Farmer's Daughter reveal where they are now.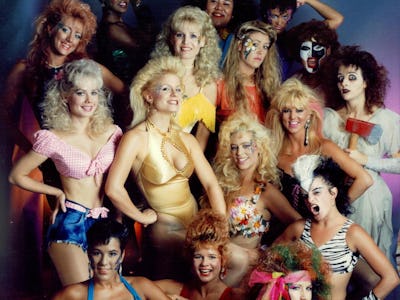 Ursula Hayden
It's been thirty years since the women of G.L.O.W. ruled Saturday morning TV. A vaudevillian parody of the already cartoonish world of pro wrestling, G.L.O.W. was loud and boisterous, with female athletes and actresses in garbs more outlandish — and many more times offensive — than any Reagan-era supervillain. Although it skyrocketed to success in the late '80s, conflicts behind the curtain forced G.L.O.W. to end in 1990. Suddenly, a locker room of charismatic women disappeared, without a chance to say goodbye to the kids who watched them every week.
Now, in 2017, G.L.O.W. lives again, in the form of Netflix's new comedy-drama loosely based on the league's early days. Although the show, from executive producer Jenji Kohan, features an ensemble of fictionalized characters, it's not hard to draw parallels between them and their real world inspirations.
Inverse caught up with a few of the original stars of the real G.L.O.W., who opened up about their current whereabouts and memories of their once-in-a-lifetime careers.
Dawn Maestas, a.k.a. Godiva
In the Netflix series, actress Kate Nash plays Rhonda, a kind and physically slender Brit whose in-ring persona is a genius named Britannica. In the real G.L.O.W., that role belonged to a character named Godiva.
Unlike most of the women in the G.L.O.W. locker room, Dawn Maestas wasn't interested in show business. "I was never in a play," she tells Inverse. The California native preferred sports: Cheerleading, gymnastics, and later as an adult, taekwondo. "I was always an athlete. I was never in the entertainment business at all."
At 23, Maestas was waiting tables in Santa Monica when she joined G.L.O.W. on what she calls "a lark." She had a connection through Ann LaBree, her high school cheerleading teammate who was wrestling as Debbie Debutante. "I took two weeks off and drove to Las Vegas 'cause I wanted to see her," says Maestas. "I had never heard of G.L.O.W. I didn't know how legit this gig was."
Having just finished art school, Maestas saw pro wrestling as a perfect canvas. She became Godiva, a pompous British socialite with a fake accent (she listened to dialect tapes on long drives) who entered the ring on a white stallion. Her evil persona and athletic prowess made her popular, but the horse made her a star. "I got so much fan mail from girls. It was the My Little Pony era," Maestas says. "All the little girls were in love with my horse."
Today, Maestas continues to work as an artist, taekwondo instructor, and wine sommelier in southern California. And yes, she can still do the accent.
Jeanne Basone, a.k.a. Hollywood
In GLOW, Sydelle Noel plays an ex-stuntwoman named Cherry, a loose version of Jeanne Basone's G.L.O.W. character "Hollywood. After the series, she became a stuntwoman and found steady modeling work around Los Angeles. She also still wrestles.
"I worked for Jagermeister, I was a Bud girl, a Miller Light girl, things you do in your '20s," she tells Inverse about her work post-G.L.O.W. "I posed for Playboy. When you're in California, there is a lot to do." Basone also became a stuntwoman for shows like Days of Our Lives, Chuck, In Living Colour, and the film Me, Myself, & Irene.
She also performs private wrestling matches for fans and clients. But don't use the word private. "I call it one-on-one wrestling because private sounds like sex to me, and that's not what's going on," Basone says. Most are adult fans who grew up on G.L.O.W. and are eager to lock armbars with Hollywood herself. Others find a satisfying release that doesn't involve sex.
Basone's primary income is through her studio, Hollywould Productions, in which she dresses up as "Wonder Womyn" and shoots custom movies and sells them on the internet. She's been doing it since 1997 and, somehow, has been free from DC's lawyers. She even has the OK from legendary Wonder Woman comics legend George Perez, whom she calls "a dear friend."
"I made a pretty good living," she says. "I had no idea in the mid to late '90s how much money I was making. It's a little different now, you're older, things are different, but I was doing very well."
Angelina Altishin, a.k.a. Little Egypt
At 19 years old, Angelina Altishin rose to G.L.O.W. heights as the belly-dancing Little Egypt. The league's habit of employing offensive stereotypes is taken to task in the Netflix series, but the times were very different, and Altishin — who's ethnically Turkish and Italian — was up for it, because hey, it was a job.
"I didn't even know what I was doing," Altishin says now, laughing. "I'm sure there's an expert in belly dancing that was like, 'She is not belly dancing.' But I didn't care, it was whatever I could take. I just decided to run with it."
Like Maestas, Altishin didn't have aspirations to act. She didn't really have many aspirations at all, a fact she admits to Inverse. A college dropout with ADD and few resources, Altishin was compelled to wrestle after meeting the physically imposing, "charismatic as heck" Emily Dole (who wrestled as Mount Fiji) while working at a t-shirt store in Las Vegas. "She looked at me and said, 'I think you'd be great at what I do. Quit this store. Come wrestle me at the Riviera.'"
Fiji became a mentor, helping the aimless Altishin find direction. "She saw something in me that I couldn't see for myself."
After retiring from wrestling at the age of 21, Altishin worked successfully in real estate. "You didn't need a degree. You just needed guts. I spent two seasons developing guts, and I took that into Las Vegas, and worked for twenty years." Altishin closed over 1,000 homes before retiring again. Today, Altishin resides in Laguna Beach, mentoring other women just as Emily Dole did for her. "I'm teaching women to become entrepreneurs, to be independent," she says. "I know that my biggest gift from G.L.O.W. was learning that women can be strong, powerful, beautiful and that they have a voice."
Ursula Hayden, a.k.a. Babe the Farmer's Daughter
While the Netflix series will rekindle interest in G.L.O.W., it's only still around thanks to the work of Ursula Hayden, who wrestled in the league as the sultry Babe the Farmer's Daughter. Another gifted high school athlete who completed tennis and gymnastics — "Tumbling, falling, I was used to it"— Ursula has been the owner of the G.L.O.W. name and video library since 2001.
Like Little Egypt, Hayden worked in real estate following the end of G.L.O.W. She also got into designing, first in clothing with her mother, then with animals, "making custom-made doggy beds, cat beds, things like that."
But G.L.O.W. was always in the back of the former star's mind. Following her divorce, Hayden and a few other ex-G.L.O.W. stars began talking about a reunion. "We'd talk about how it'd be great if somebody could step up the plate and do something. We waited and waited and nobody was doing anything."
Finally, Hayden got in contact with then-owner Meshulam Ricklis to borrow the G.L.O.W. name for a reunion show. Ricklis practically gave away G.L.O.W. right then and there. "I was just dumbstruck," Hayden recalls. "This is awesome but also really something big I'm undertaking here, probably bigger than I realized right at that moment."
In the 2000s, Hayden began working to archive G.L.O.W. and sold collector DVDs to nostalgic fans. In 2010, Hayden was approached by a few documentary filmmakers who were eager to tell the story of G.L.O.W. After some resistance, Hayden agreed to participate and was blown away by the final result: 2012's GLOW: The Gorgeous Ladies of Wrestling. Then, Netflix came calling, and Hayden worked as a consultant on the new series.
GLOW is now streaming on Netflix.