Meet the Ladies of Wrestling in Trailer for Netflix's 'GLOW'
Blood, sweat, and tears of joy are everywhere in Netflix's 'GLOW.'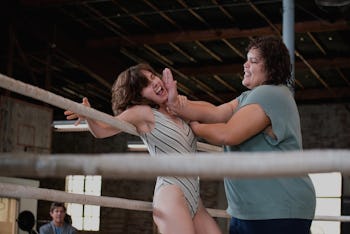 Netflix
In 1986, a locker room full of colorful, badass women took over the Riviera on the Las Vegas strip and became the stars of GLOW, the Gorgeous Ladies of Wrestling. Now, their behind-the-scenes story will come to life on Netflix in the 10-episode comedy-drama GLOW, starring Alison Brie (Community). On Monday, the streaming service released the hilarious first trailer, and it's got all the neon-colored nostalgia, aerobics, and hair metal you could possibly hope for from the decade.
In the series, which was created by the same team behind Netflix's Orange Is the New Black, Alison Brie plays Ruth, a struggling actress who auditions for a very different sort of television show: GLOW, a wrestling league with exclusively female wrestlers. Upon getting the part, Ruth competes and bonds with her co-stars, all of whom are models and actresses hoping to break into the industry through body slamming each other. The league is spearheaded by a failed B-movie director, Sam Sylvia (comedian Marc Maron), who amusingly emphasizes storytelling over sex appeal from his talent.
In real life, GLOW was a regional sensation that aired over 100 episodes in its lifetime. While it never soared to the heights of Vince McMahon's WWE empire, GLOW and its performers — trained by Mando Guerrero, of the famous Guerrero wrestling family — are fondly remembered by fans to this day.
Unlike other pro wrestling federations that imitate real sports, GLOW behaved like traditional television, with structured seasons and character-driven stories. A 2012 documentary about the promotion, titled GLOW: The Story of the Gorgeous Ladies of Wrestling, inspired the new Netflix series.
Check out the trailer for Netflix's GLOW below.
GLOW will premiere on June 23.