Marvel's Phase 5 Lineup Already Looks Fantastic
Black Panther and Blade and X-Men, oh my!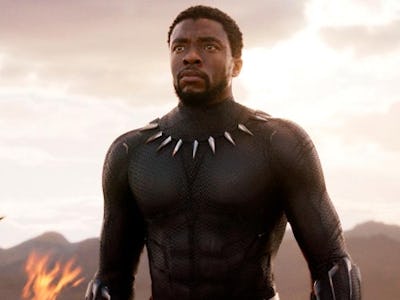 The next two years of pop culture already belong to Marvel, thanks to the 11(!) movies and shows that Marvel Studios boss Kevin Feige and an army of celebrities announced on the last night of Comic-Con 2019. From Black Widow to WandaVision, Phase Four of the Marvel Cinematic Universe is looking pretty great, but what comes after that?
Believe it or not, we know a lot about Phase Five already, thanks to a few teasers shared at Comic-Con — and a healthy sprinkling of deduction from the superhero-obsessed brains here at Inverse. Here's a definitive breakdown of everything we know (or think we know) about the future of the MCU after Phase Four.
This is a recreation of Inverse's twice-weekly newsletter, Multiverse. Sign up here for free.
Oh, and if you're sick of reading about Marvel, why not check out our interview with The Boys showrunner Eric Kripke? Speaking to Emily Rome, he explained how they adapted the original comic for the #MeToo era and why the Amazon series became a "perverted Wizard of Oz" with superheroes.
Still here? Cool. So first things first, here's a quick list of all the Phase Five hints Feige gave us at Comic-Con:
"Mutants" (He literally just said the word "mutants." More on that in a minute…)
Blade (starring Mahershala Ali)
But what does all that mean? And what about Spider-Man 3 or Avengers 5? Let's go a little deeper…
Spider-Man 3 Has a Lot of Questions to Answer…
Spider-Man: Far From Home ended on a huge cliffhanger that could mean major changes for Peter Parker.
Now that everyone knows his identity, what will Tom Holland's version of the webslinger do? And even more important, how big of a role will J. Jonah Jameson (J.K. Simmons) play in the new movie?
The only thing we know for sure is that Spider-Man 3 is happening, but we already have plenty of theories. Read more.
The Fantastic Four Might Be Hiding in Plain Sight
Speaking of Spider-Man, it turns out Far From Home actually had a pretty huge Easter egg hinting that the first superhero family may have already set up shop in New York.
We're still not expecting the Fantastic Four to arrive until Phase Five, but Eric Francisco has some pretty awesome ideas about what a Spidey-F.F. mashup might look like.
Spoiler alert: It might have to do with the weirdest Marvel show coming to Disney+: What If…? Read more.
Enter, the X-Men
Kevin Feige didn't actually say the words "X-Men" at Comic-Con, but he did say "mutants," and that's close enough for us. Assuming the X-Men, or even just a few fan-favorite mutants like Wolverine and Deadpool, are coming in Phase Five, Marvel is going to have its work cut out explaining how all these new characters fit into the MCU.
Then again, maybe the answer is staring us straight in the face. At least, that's what Corey Plante argues in a compelling theory that links Phase Four's Doctor Strange sequel and WandaVision to explain how Marvel could remix the comics to introduce the X-Men. Read more.
Black Panther 2 Has a Big Villain Problem
Killmonger is one of the most compelling bad guys in MCU history, but that puts even more pressure on writer-director Ryan Coogler to deliver another great villain in Black Panther 2.
One popular theory is that Avengers: Endgame could have actually teased Namor (basically Marvel's Aquaman with an anti-hero streak) as the main antagonist in the Phase Five sequel.
Then again, maybe Coogler will figure out a way to bring Killmonger back — at least, that's what Danai Gurira seems to be hinting at in a recent interview… Read more.
Vampires Invade the MCU
The biggest surprise of Marvel's Comic-Con presentation was the news that Oscar-winner Mahershala Ali would play Blade in a Phase Five MCU movie.
We literally know nothing about this film, but it's probably safe to say that the Disney-ified version of the vampire hunter won't be able to get away with some of the best quotes from the 1998 Wesley Snipes classic, which featured iconic lines like "Some m-fers are always trying to ice-skate uphill."
If you've never seen the original Blade trilogy or read the comics, we've got you covered with the best breakdown of the half-vampire hunter you'll read on the internet this week. Read more.
Avengers, Assemble … Eventually
Avengers: Endgame wiped out some of the MCU's most iconic heroes, and it's going to be a while before the superhero team assembles again.
In an interview, Feige explained that the MCU needed a break from the Avengers after Endgame while hinting that whenever Avengers 5 does happen, it would feature a "very different" superhero lineup.
Of course, we had to speculate on what that could mean, and we think we came up with a pretty good prediction for what the team might look like by the time Avengers 5 storms into theaters to break box office records all over again.
Which Marvel movie are you most excited for in Phase Four or Five? Send your answer to jake@inverse.com and maybe we'll feature you in a future newsletter.
Also, don't forget to subscribe!