Who Is Blade? Marvel's Phase 5 Vampire Hunter Is Its Darkest Hero Yet
A new generation will meet the Daywalker.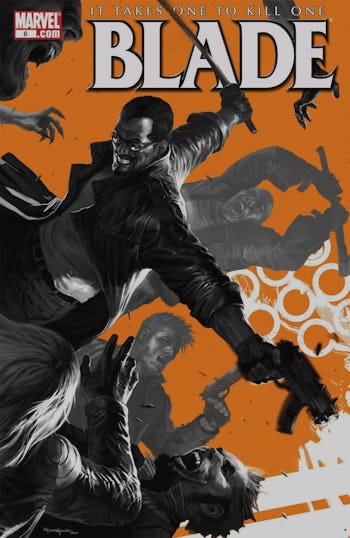 Marvel Entertainment
Cottonmouth died so Blade could live. At Comic-Con Saturday, following a bombshell rollout of Marvel Studios' Phase Four projects, Kevin Feige revealed that Mahershala Ali, who previously played Cottonmouth in the Marvel/Netflix series Luke Cage, will portray Blade in a reboot set inside the Marvel Cinematic Universe.
Famously played by Wesley Snipes in a trilogy of films between 1998 and 2004, Blade is a cult Marvel anti-hero whose origins can be traced back to 1973. Back then, Marvel had a little-known dalliance with horror, via the gothic series The Tomb of Dracula, which is where Blade made his debut in issue #10.
Preceding the superhero movie boom as ushered in by X-Men (2000) and Spider-Man (2002), the Blade films do not get enough credit in helping legitimize the superhero genre. But now, Blade's return to the Marvel Universe will finally bring some light to one who dwells in darkness.
Remembered for his dry humor, slick leather outfits, sunglasses, and wild arsenal of guns, swords, and yes, wooden stakes, here's what else you need to know about Blade before his return to the big screen.
"They Call Me … Blade!"
Blade, born Eric Brooks, is a vampire who hunts other vampires. We could end this entire article here, because his bloodlust speaks for itself. But there's much more to Eric "Blade" Brooks.
Born to a prostitute in 1929 London, Eric inherited his vampirism when his mother, Tara, was feasted on and killed during labor by Deacon Frost, a vampire in disguise. Deacon's vampiric enzymes were passed onto Eric, who inherited powerful traits but none of the weaknesses vampires suffer from, including aversion to daylight. The Wesley Snipes films would call this rare breed of half-vampires as "Daywalkers," for their ability to literally "walk" in daylight.
One day, Eric saw an old man being assaulted by vampires and rescued him. The man turned out to be Jamal Afari, a musician who moonlighted as a vampire hunter. He took in Eric and trained him to become a proper vampire hunter. He earned the nickname "Blade" from other hunters who saw immense talent and promise in the young boy.
Upon crossing paths with Dracula, who killed Afari, Blade would grow determined to hunt and kill the famed vampire. Thus began Blade's quest that continues to this day. Another major foe of Blade is Morbius, a vampire original to the Marvel Universe. (The character will soon be played by Jared Leto, in a standalone film releasing in 2020.)
In the mainstream Marvel Universe, Blade has had plenty of encounters with icons like the X-Men, Doctor Strange, and Spider-Man. In fact, for a brief period, he adopted Hawkeye's "Ronin" moniker and worked alongside the Mighty Avengers. More recently, Blade joined the Avengers, by invitation from Black Panther.
"I Tried to Make Him More Real"
Blade was imagined by legendary creators Gene Colan and Marv Wolfman in 1973. In a 2001 interview with Comic Book Artist, Golan took credit for coming up with the visuals of Blade, giving him things like his leather jacket, though the "bandolier of blades" was "Marv's idea."
"Marv told me Blade was a black man, and we talked about how he should dress, and how he should look," Colan said. "The bandolier of blades — that was Marv's idea. But, I dressed him up. I put the leather jacket on him, and so on." He said Blade was based on a "composite" of black actors and athletes.
Colan also understood the power of representation in comic books, even in the '70s. He told Comic Book Artist, however clumsily:
"Blacks were not portrayed in comics up to that time, not really. So I wanted to be one of the first to portray blacks in comics. There were black people in this world, they buy comic books, why shouldn't we make them feel good? Why shouldn't I have the opportunity to be one of the first to draw them? I enjoyed it!"
Years later, in a 2009 interview for Marvel Spotlight, Wolfman said:
"I also wasn't happy with my Blade dialogue, so I pulled him out of the book for a while — I think almost a year — and when I brought him back I played him a bit straighter. The early Blade dialogue was cliche 'Marvel Black' dialogue. Later on, I tried to make him more real. But it took growing up as a writer."
What Blade Means for the MCU
That Blade is coming to the MCU has to answer one major question: Where are the vampires? Between aliens like Thanos and the Asgardians and cosmic deities like Dormammu, one would have probably encountered vampires by now. But that might also mean Blade is already active in the MCU, and is just that good at his job that we've never seen or heard his work.
Thor: Ragnarok had a very low-key vampire-themed Easter egg when Korg (voiced by Taika Waititi) notes that a forked wooden spear was "not very useful unless you're up against three vampires all huddled up."
The joke references Waititi's What We Do in the Shadows film in which he stars as one of three vampires living together in a New Zealand flat. Is the alien made of rocks aware of vampires as fiction, and is making a joke? Or was he genuinely imaging a fight against real vampires?
Blade's significance to the MCU, however, means far more than questions about canon and silly vampire jokes. Without Blade, there probably wouldn't even be a Marvel Cinematic Universe.
While actor Wesley Snipes is remembered for starring as Blade, but it wasn't the role he wanted. In a 2018 interview with The Hollywood Reporter, Snipes said his dream project was a film adaptation of Black Panther. He had the support of Stan Lee but no one else in Hollywood. At the time, the potential box office draw of an Afrofuturistic superhero seemed minimal.
"They think you want to come out with a black beret and clothing and then there's a movie," Snipes told The Hollywood Reporter.
When Snipes' Black Panther fell through, he pivoted to another athletic black superhero in Marvel's deep library as a consolation prize, and that was Blade.
"It was a natural progression and a readjustment," Snipes said. "They both had nobility. They both were fighters. So I thought, 'Hey, we can't do the King of Wakanda and the Vibranium and the hidden kingdom in Africa, let's do a black vampire.'"
Snipes' Blade grossed $131 million, a box office win when Marvel, then bankrupt, needed good news. The film spawned two sequels, and the third Blade film had a certain co-producer working behind the scenes: Kevin Feige.
In an interview with The Hollywood Reporter, Feige said that Ali called Marvel to pitch himself as Blade after winning the Oscar for Best Actor, for his performance in Green Book. At Comic-Con, Ali put on a hat that simply read, "Blade."
There is no release date for Blade.