Marvel Announces 'Blade' for the MCU, Starring Mahershala Ali
 San Diego Comic-Con just got rid of vampires thanks to the MCU's debut of Blade.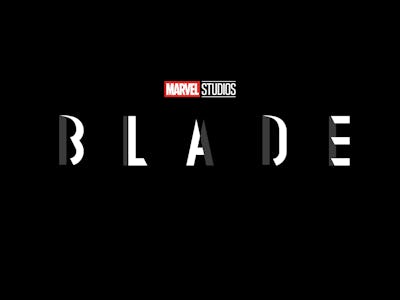 Twitter.com/MarvelStudios
At the end of Marvel's panel at Comic-Con, Kevin Feige pulled a Steve Jobs ("One more thing") and revealed Blade is joining the MCU, and that he will be played by Oscar-winning actor (and Luke Cage alum) Mahershala Ali.
On Saturday, to close out an incredible rollout of reveals that included Shang-Chi and the Legend of the Ten Rings, Doctor Strange in the Multiverse of Madness, and Black Widow (plus a bunch of Disney+ shows including WandaVision and The Falcon and the Winter Soldier), Feige finished the panel with Mahershala Ali walking on stage to announce his role as Blade, the Daywalker, in Blade.
That's right, bloodsuckers: Blade is joining the MCU.
The film does not yet have a release date.
Little is known about Marvel's Blade, including an attached director, plot, or even its place in the Marvel Cinematic Universe. Even the film's logo is a lot more barebones compared to other Marvel movies. But what fans can expect is a cool-as-steel vampire hunter played by Ali, one of the most vibrant actors today who is no stranger to superheroes and science-fiction.
In addition to starring in the divisive Oscar-winner Green Book, Ali also starred in Alita: Battle Angel and the villain "Cottonmouth" in the Marvel/Netflix series Luke Cage. (Ali's casting also suggests that the Marvel/Netflix series now no longer canon, which is upsetting for fans of the Defenders.)
While 2000's X-Men is credited for kicking off the superhero movie boom, it really began with 1998's Blade. Starring Wesley Snipes who agreed to the movie after he failed to get his dream project, Black Panther, off the ground, the film adapted the obscure Marvel superhero, Blade, a vampire who hunts other vampires.
The 1998 film kicked off a rather popular trilogy: 2002's Blade II, which was directed by Guillermo del Toro, and 2003's Blade: Trinity, which co-starred Jessica Biel and future Deadpool, Ryan Reynolds. A short-lived series on Spike aired in 2006, while an anime aired on G4TV in 2011.
Feige has pursued Blade for a long time. The superstar producer's career began at Marvel back when the comic book publisher was just getting into movies, which started with Blade and X-Men. In a 2017 interview, Feige said:
"My tenure at Marvel started 17 years ago, and there were two things that sort of launched the modern era. One was X-Men, which was the first thing that people said, 'Oh, there's life here.' But a few years before that, there was Blade. A character nobody had heard of at all, had only appeared in a few issues of Tomb of Dracula or something, turned into a big franchise. That was always a great lesson for me, where you go, 'It doesn't matter how well known the character is, it matters how cool the movie is.' Which, many years later, would be the reason we do Guardians of the Galaxy, Doctor Strange. I think Blade is a legacy character now, and I think it would be fun to do something with him one day."
For Feige, that day(walker) is today.
Blade does not yet have a release date.