Tesla Earnings Call: 3 Key Questions for Elon Musk's Pre-Pickup Truck Call
Get ready for a new vehicle to hit the roads.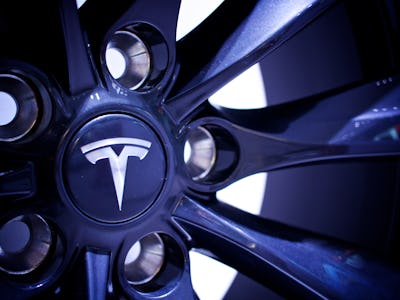 Flickr / cchana
Tesla is about to enter the latter stages of its plan to bring electric cars to the world.
On Wednesday, July 24, the company is set to update investors on its second quarter earnings. It comes at a big time for the firm, as CEO Elon Musk is midway through a three-pronged plan outlined in the second master plan to make electric cars more affordable.
It's a journey that started with the Model 3 sedan, which launched in July 2017. It continued with the Model Y SUV, unveiled in March with a 2020 launch date. It's set to conclude with the Pickup Truck, an as-yet unrevealed "cyberpunk" vehicle that Musk has compared to Blade Runner. Musk has stated he hopes to unveil the truck this summer.
With that final piece in place, Tesla expects to be better positioned to transition the world away from gas-powered vehicles and toward clean, eco-friendly modes of transport. Tesla only made 500 original Roadsters in 2008, its first year of producing electric cars. By the end of 2018, it had produced about 250,000 electric cars. The company expects to make around 1 million Model Y cars per year alone.
As the company gears up for an even bolder moment of expansion, here are the three questions followers may have.
3. What Is the Status of Model 3 Production?
Tesla announced earlier this month that it had delivered a record number of Model 3 cars over the past three months. The automaker delivered over 95,200 vehicles and produced 87,048 cars. Of those figures, the Model 3 accounted for 77,550 deliveries and 72,531 produced cars.
It was a big moment for the company's least-expensive car, which Musk previously described as a "bet the company" moment. Its starting price of $35,000 propelled it to a more mass market status, setting sales records. International expansion this year is set to kick into overdrive as the Shanghai Gigafactory takes form. Followers will be keen to know how these projects are moving along, and how Tesla is racing to meet demand for the Model 3.
2. Is Tesla's Launch Schedule Going to Plan?
Tesla has a lot of vehicles lined up for the next year and a half. It's expected to unveil the Pickup Truck for an as-yet-unspecified launch date. It has the first versions of the Model Y hitting streets by the fall of 2020. The Shanghai Gigafactory is also expected to produce more Model 3 vehicles.
But consumers will also be eager to know about Tesla's other projects. Will the second-generation Roadster, set to reach speeds of over 250 mph, still race onto roads in 2020? Or do Musk's recent "dessert" comments mean a delay is on the cards? Consumers will also be interested in the Semi truck, unveiled at the same event with a similar launch window.
1. Is This Still the Year of the Solar Roof?
Musk declared in March 2019 that this would be the "year of the Solar Roof," in part as the company had successfully ramped up production on the Model 3 and could provide more battery cells for home consumers.
Evidence suggests progress is coming, albeit rather slowly. A third version of the roof is expected to be more weather resistant as the company expands from installs in California to reach consumers in eight states. Musk also claimed Tesla has been working to reach lower price points, possibly beating the $21.85 per square foot consumers can expect to pay right now. Musk claimed in June that Tesla has "a shot at being equal to a comp shingle roof plus someone's utility costs, or maybe lower than that."
Whether Tesla has made any progress on that front, and what comes next for the roof, could be one of the big questions to come.
How to Listen to Tesla's Q2 2019 Earnings Call
Following along is easy. The call is expected to start at these times:
3:30 p.m. Pacific time
6:30 p.m. Eastern time
11:30 p.m. British Summer time
12:30 a.m. Central European time (Thursday)
6:30 a.m. China Standard time (Thursday)
8:30 a.m. Australian Eastern time (Thursday)
Listening to the call is simple. Just follow these instructions:
Head to the company's investor relations page. The listings should show the second quarter 2019 results, plus a link to the webcast.
Visit the webcast link. You will be asked to enter your first name, last name, email address, and company.
Hit submit, and you will be taken to the media player.
Note that the player only supports the following browsers:
Google Chrome (two latest versions)
Microsoft Internet Explorer 11
Microsoft Edge (two latest versions)
Firefox (two latest versions)
Safari (two latest versions)
The player also only supports these operating systems:
iOS 10 and above
Android 4.4 and above
Windows 7 (latest service pack)
Windows 8.1 (latest service pack)
Windows 10 (latest version)
OS X 10.11 El Capitan
macOS 10.12 Sierra
macOS 10.13 High Sierra
And that's it! The call normally lasts for just over an hour, with the first 15 minutes or so covering the questions followed by a lengthy question and answer session.