One of the Most Exciting Marvel Heroes May Be in the 2020 'Avengers' Game
Is Kamala Khan coming to the Square Enix Avengers universe?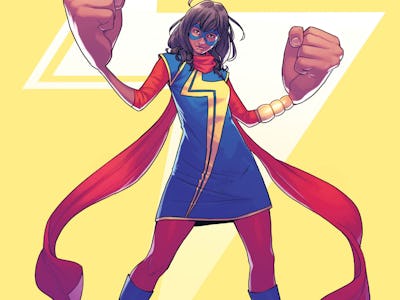 Marvel Entertainment
One of the most exciting Marvel heroes in the modern era may take center stage in Marvel's Avengers, the action RPG video game from Square Enix that's out in May 2020.
At San Diego Comic-Con, a new gameplay video (not yet available to the public) showed a young woman in a Captain Marvel shirt, calling for "Ammi" and "Abu" before getting knocked down. If your fandom senses are tingling, that should tell you Marvel's Avengers may include Kamala Khan, a.k.a. Ms. Marvel.
It all happened Thursday, when Square Enix, Crystal Dynamics, and Eidos Montreal presented new footage of Marvel's Avengers, which will be released on May 15, 2020 for consoles and PC. The footage included a bystander on "A-Day," a day devoted to the Avengers that ends in catastrophe, who is seen wearing a Captain Marvel shirt. Polygon's Susana Polo tweeted the person was "calling out" for Ammi and Abu, who are Kamala's siblings in the comics.
The footage is not yet available to the public, though cell phone footage is already making its way on social media.
Between the Captain Marvel shirt, Ammi and Abu, and recent rumors on ResetEra forums, it seems assured that Ms. Marvel will be in one of the most anticipated Marvel video games since last year's Spider-Man.
The possible reveal of Kamala Khan further supports some fan speculation that the unknown narrator (heard in previous trailers) is, in fact, Kamala Khan herself, who warns against meeting your heroes. (Kamala, like many Marvel fans, adored the Avengers from afar until she became one.)
The story of Marvel's Avengers also features a five-year time jump, not unlike Avengers: Endgame, in which the Avengers must reassemble after a devastating event five years earlier. Most of the action previewed happens in the game's prologue, with the main story taking place five years later.
Who Is Ms. Marvel?
For those whose knowledge of the Marvel Universe only comes from films and TV, Kamala Khan is a Muslim-American teenager from New Jersey who takes up the old mantle of "Ms. Marvel" from her idol, Carol Danvers. She was introduced in 2014 by Marvel editor Sana Amanat and G. Willow Wilson.
See also: What We Know About Ms. Marvel in the MCU (And How Mindy Kaling's Involved)
Her story begins on one night after Kamala sneaks off to a party with her friends from school. That's when a Terrigen Bomb goes off across the Hudson River, the mist activating Kamala's Inhuman DNA and endowing her with superpowers. Since becoming Ms. Marvel, Kamala has served time as a member of the Avengers and the teen superhero group, the Champions.
See also: Brie Larson "Dreams" of Having Ms. Marvel in Sequel
Noted for its authentic portrayal of Muslim-Americans in the still predominantly white universes of comic books, Ms. Marvel has been one of Marvel's most popular series, selling especially well in trade paperback.
If Kamala is indeed in Marvel's Avengers, it wouldn't be the first time Kamala is in a video game. The character has appeared in a number of mobile games, including Marvel Puzzle Quest, Marvel: Future Fight, and Marvel: Contest of Champions. She was recently made a playable character in Marvel Ultimate Alliance 3: The Black Order for the Nintendo Switch.
But her potential starring role in the triple-A title of Marvel's Avengers will still be a huge deal, potentially becoming the first playable Muslim-American character in a blockbuster video game, if The Black Order didn't already win her that qualification.
Marvel's Avengers will be released on May 15, 2020 for PC, Google Stadia, PlayStation 4, and Xbox One.