What We Know About Ms. Marvel in the MCU (and How Mindy Kaling's Involved)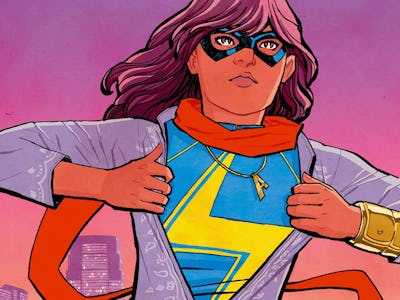 Marvel Comics, Cliff Chiang
Way before Carol Danvers became Captain Marvel, she fought crime and saved the world under the identity Ms. Marvel. Since 2014, that identity has belonged to a New Jersey teenager, Kamala Khan, who served as an Avenger and a founding member of teen hero group, the Champions. Now, Kamala Khan is potentially on her way to the Marvel Cinematic Universe to join Carol Danvers.
And in some capacity, Mindy Kaling is involved.
On June 8, while promoting her newest film Late Night, the actor, writer, and comedian told MTV News that she's "spoken" to Marvel about the character and why Kamala Khan resonates with young fans today:
"The people I've spoken to at Marvel are so excited about the character. I think they're trying to figure out what to do with it. And I told them I would help in any way. Because I truly love her. But they seemed really interested and I think they will probably do something, now that there's like this streaming platform with them. But I think they understand there is the excitement, you know. Riz [Ahmed], me, every Desi actor was very excited."
Later, when Kaling's comments to MTV News started generating buzz, Kaling clarified on Twitter she's only had conversations with Marvel and has not officially taken up any position over a Ms. Marvel project, be it film or TV.
"Hi everyone, I love Ms. Marvel (aka Kamala Khan) and the geniuses behind her @GWillowWilson @MiniB622 @Marvel, but I have no information about any tv or film adaptation!" Kaling wrote. "Wish I did though, when that hits the screen it's gonna be huge😍"
Introduced in 2014, Kamala Khan is a Pakistani Muslim teenager from New Jersey who spends her free time writing Avengers fan fiction and obsessing over superheroes. When a Terrigen bomb went off across the river in New York City (in the 2013 storyline Infinity), the Terrigen Mist unlocked the Inhuman powers of people with Inhuman DNA.
That included Kamala Khan, who had snuck off to a party against her parents' strict orders and came in contact with the Terrigen Mist. As her powers manifested, Kamala hallucinated her idols Captain America, Iron Man, and Carol Danvers, who "granted" her wish to become a superhero.
Kamala Khan, whose first major volumes of stories were written by Muslim-American writer G. Willow Wilson, is the first Muslim-American superhero in the Marvel Universe. Ms. Marvel Vol. 1 was a New York Times as a best-seller, back when the Times ranked graphic novels.
During the press tour for Captain Marvel earlier this year, Brie Larson expressed "dreams" of having Ms. Marvel in a sequel. "My dream would be that Ms. Marvel gets to come into play in the sequel. That's the goal," Larson said.
As of now, there are no official Ms. Marvel projects in production, whether it's a standalone film, a sequel to Captain Marvel, or a television series on Disney+, which launches in November. Until then, like Brie Larson, fans are free to dream up what Ms. Marvel could become in the MCU.