'Captain Marvel' Reviews: Carol Danvers Packs a Helluva Punch
The movie claims an 83 percent "Fresh" rating on Rotten Tomatoes.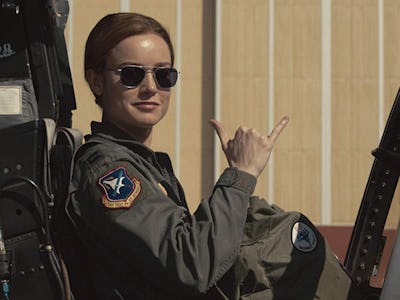 Marvel Studios
Captain Marvel flies into theaters this weekend, and reviews are in: Carol Danvers packs a helluva punch. As of this writing, the film's Rotten Tomatoes score is in at 83 percent and rising, though this number could change by the time this email hits your inbox.
This article originally appeared in the Multiverse newsletter. Sign up for free to get the latest entertainment news from Inverse.
As Inverse's own Corey Plante writes, Captain Marvel "feels new and absurdly weird in so many ways." He also writes that the film "feels safer than some other recent Marvel films like Ant-Man and the Wasp, Black Panther, and Thor: Ragnarok that each took different stylistic risks. But Captain Marvel comes across as so much more earnest and realistic, thanks to excellent performances by Brie Larson, Samuel L. Jackson, Ben Mendelsohn, and Reggie the Cat." (Corey really likes cats.) Read more.
What's Next: You're going to see Captain Marvel this weekend, and you'll probably like it! When you see it, let us know your thoughts by sending an email to eric@inverse.com.
Read More About Captain Marvel
Game of Thrones Season 8 Teases the End
Winter is here, and it's going to be hell. Not satisfied with letting Marvel have all the fun, HBO released the trailer for the final season of Game of Thrones on Tuesday, which may confirm a few of your weird fan theories. No, it doesn't tease Cleganebowl, but still.
Is Jaime Lannister joining the North? Some fans are speculating that Jaime Lannister, often the more level-headed of the beleaguered Lannister family, is joining Jon Snow and his army of the North to fend off the White Walkers. We've seen Jaime wear Northern armor, and the new trailer hints he's also going to fight alongside them, too. The trailer also hints at the Golden Company, a mercenary army hired by Cersei Lannister. Read more.
Shazam! Trailer Brings the Laughs
Batman has a cameo in Shazam!, kind of. The Dark Knight makes a very light cameo as an over-sized, talking action figure in the new trailer for Shazam!, released Monday. And Zachary Levi continues to shine in his role as an overgrown kid given great powers and no responsibility. Watch the new trailer.
Lego Is Spoiling Avengers: Endgame
Don't walk in the toy aisles before seeing Avengers: Endgame. New leaks on Reddit of Lego toys featuring Thanos, the Hulk, and the other Avengers from Avengers: Endgame are naturally becoming a source of speculation by some very bored fans. Read more.
Maisie Williams: Cammie MacCloud Pwns Arya Stark
We spoke to Maisie Williams about her new role in Rooster Teeth's anime series gen:LOCK, and she has some thoughts about who would win in a one-on-one fight against her Game of Thrones heroine Arya Stark. Citing Cammie's advanced technology, it seems Cammie might have an unfair advantage. The actor also dished on what anime she loved before starring in gen:LOCK. Read more.
Legendary Speculation for Pokémon Sword and Shield
Oi slags, ya wanna catch sem Pok-ay-mahn? Nintendo finally revealed Pokémon Sword and Pokémon Shield, the two newest entries to the undying video game franchise for the Nintendo Switch. And because we are crazy people, we might have a theory regarding the new games' Legendary Pokémon. Read more.
Enter the Parliament of Trees
Underworld director Len Wiseman teased the first look at DC's Swamp Thing. The next live-action series coming to the DC Universe app will be Swamp Thing, based on the late Len Wein's cult horror superhero of the same name. And Wiseman has posted on his Instagram page a moody first look at the series, as the director can be seen wading through a slimy bog. Read more.
Star Wars Fans Dismantle C-3PO's Tweets
Star Wars actor Anthony Daniels has been tweeting some weird sh-t, and fans are naturally doing their best to figure out what the heck he's doing. The people of Reddit have taken it upon themselves to decode his tweets, which they believe might hint at a premiere date for the Star Wars: Episode IX trailer, or even its title. Read more.
Illegal Lightsabers Soon to Be at Disney
Speaking of Star Wars, you can buy "illegal" lightsabers at Disney World and Disneyland later this year. Details for Star Wars: Galaxy's Edge at Disney's theme parks surfaced last week, and one of the most exciting attractions will easily be "Savi & Son Salvage," which will be a front for a full-blown custom lightsaber creation suite. Holy crap, yes, read all about it here.
Some Adult Data on Apex Legends
You weirdos have been looking up Apex Legends on PornHub. You can't hide this from us, because PornHub has shown us the data: Searches for "Apex Legends" on the adult streaming video platform spiked in a big way on February 18, surpassing even Fortnite. See the exclusive data.
What's Next
On Wednesday, DC fans can pick up Doomsday Clock #9, the next issue in Geoff Johns' sequel to Alan Moore and Dave Gibbons' Watchmen set in the mainstream DC Universe. On Friday, Captain Marvel hits theaters. That same day, Amazon premieres its delightful new animated series Costume Quest, a Halloween fantasy based on the acclaimed indie video game series. Between all of that, your upcoming weekend should be quite, well, super.