Apple Car: 3 Futuristic Automotive Technologies Apple Patented Last Month
The company isn't backing down from its automotive ambitions.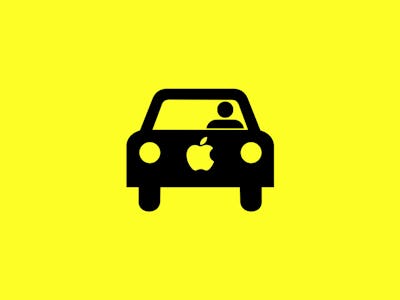 Danny Paez
Reports and rumors about Apple's Project Titan, a mysterious self-driving car venture, have swirled since early 2015. Four years of hirings, firings, and projections have added little clarity to Apple's plans, though a July treasure trove of new patent filings offers further clues.
Previous filings to the United States Patent and Trademark Office have suggested that Apple has explored making its own car, both a hybrid model and an all electric one. Apple has also outlined a number of futuristic features in patents, including concepts for smart headlights and augmented reality windshields.
Most recently, the company has teased wireless charging capabilities, a retractable bumper, and a custom-built suspension system, progress made all the more confusing by Apple's decision to lay off more than 200 employees in January, according to a CNBC report.
Some analysts still think an Apple car could be released within the next few years. Trusted Apple analyst Ming-Chi Kuo says Project Titan will be unveiled some time between 2023 and 2025. Egil Juliussen, research director for IHS Markit says that timeline may be possible, but also indicated to Inverse that Kuo's timeline can only be achieved if Apple finds a partner, for example a ride-hailing service like Uber or Lyft.
For now, Project Titan remains shrouded in mystery. But three recent patents — all filed in the last few weeks — may offer clues about where the project is headed.
Project Titan: Wireless Charging
Apple has a spotty reputation when it comes to wireless charging, but it looks like the company is exploring how to develop a wireless charger for electric vehicles. It filed a patent application on July 11 detailing how parking spaces or customer garages could be retrofitted with a "vehicle-to-wireless-power-transmitter" that would automatically align Apple's car so it can juice up over night, tether free.
The patent summary states:
"Wireless power may be transferred from a wireless power transmitter in the parking space to a wireless power receiver coupled to a vehicle body in the vehicle. The control circuitry may use sensors to make sensor measurements during parking events."
This feature seems like it's a long ways away, particularly as it looks like Apple is still weighing a system designed for hybrid cars. This could be a concept Apple would plan to introduce further down the line.
Project Titan: Retractable Bumper System
Apple is also exploring ways to make cars work better in cramped cities, including a new concept that would help a would-be self-driving car maneuver tight spaces. This feature seems more likely, appearing in not one but two patents that the company was granted on July 2 and July 9, both describing an "extendable bumper" that uses "pressurized gas" to expand and contract.
Here's the patent summary:
"A vehicle includes a body portion, an opening defined by the body portion, and an extendable bumper that is positioned in the opening and is moveable with respect to the body portions between an extended position and a retracted position. The extendable bumper includes an inflatable structure that causes movement of the extendable bumper…"
That could come in extra handy if the vehicle needs to parallel park in congested city streets that are already densely packed by other vehicles. Considering the widespread fear among urban planners that self-driving cars will greatly exacerbate gridlock by roving around to avoid parking fees and tolls, this feature could help solve an existential problem by helping them take up less space.
Project Titan: Durable Suspension System
Most recently, Apple was granted a patent for a custom-made suspension system for Project Titan on July 16. The document describes a relatively conventional power steering system which is found in may modern cars, with one key twist.
Apple's smart suspension system will work behind the scenes to decrease tire scrubbing, which happens when tires are exposed to sideways forces, like sharp turns. Here's the patent:
"Such a suspension design may also provide less tire wear due to reduced tire scrubbing when the wheels are turned and better directional stability in view of a steer-by-wire system."
This bolsters the rumor that Apple plans to some day partner with a ride-hailing service. If you're going to supply cars that are constantly in use serving ride-hailing patrons, then you're going to want to find every possible way to cut down on wear and tear.
It will likely be several more years until Apple decides to say anything concrete about Project Titan. But in the meanwhile, its steady stream of automotive patents will shed light on how Apple envisions the car of the future.