AirPods Patent Poses a Solution to the Biggest Problem With Apple's Earbuds
One small change could make a big difference.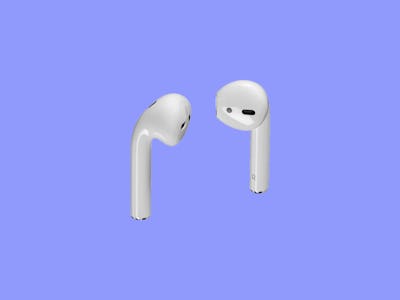 Apple
Apple's AirPods have taken the wearable technology world by storm. Their compact frame, sleek design, and iPhone synergy have made them one of the premier wireless earbuds choices on the market — and a certain kind of status symbol for urban commuters.
But the $159 AirPods have one often-complained-about problem: sound leakage.
AirPod owners have noted that friends, family, and strangers can hear the music or podcast they're listening to, making them a privacy problem for Apple, a company that's quick to point out that privacy is important to them.
A bit of sound also bleeds out when users have AirPods in their ears, which reduces audio quality. Apple didn't make any moves to fix this black eye in its March AirPods upgrade, but a recent company patent suggests it is moving toward a solution.
Future AirPods could greatly improve users' audio experience by directing air out of the smaller hole on the face of the bud instead of the opening at its tip. Apple explains how this minor tweak could vastly improve the quality of sound its wired and wireless headsets can provide in a patent application published on Thursday by the United States Patent and Trademark Office.
The idea is that less ear pressure will lead to less sound being forced out of the buds, which a large opening could achieve.
"Instead, air is directed out of the secondary output opening 110 … Reducing the pressure within the ear canal improves the user's acoustic experience. …This in turn, results in a substantially consistent acoustic performance of earphone 100 between users. In addition, in one embodiment, the amount of air leakage can be controlled so that increased, if not maximum, sound output reaches the ear canal."
Addressing this gripe could lead the AirPods to even more success down the line. Trusted Apple analyst Ming-Chi Kuo estimated in December 2018 that Apple will sell 50 to 55 million AirPods in 2019, and eventually 100 to 110 million in 2021.
The company has touted that its wearables business alone has ballooned to the size of a Fortune 200 company during its January earnings call. The tech giant's two major wearable products are the AirPods and Apple Watch, suggesting that it has big plans for both in the future.
Ming anticipates that the AirPods will eventually receive biometric sensors to appeal to the consumer health market and line them up with the Apple Watch. Improving sound quality could also make them a more tempting purchase for audiophiles who focus on audio caliber over everything else.
Apple's signature earbuds have already made waves in the tech space. If Apple refines its biggest weaknesses, AirPods could easily continue snowballing in popularity.