Here's When Disney Will Release 'Star Wars: Rise of Skywalker' Trailer 2
There's a pretty clear pattern by now.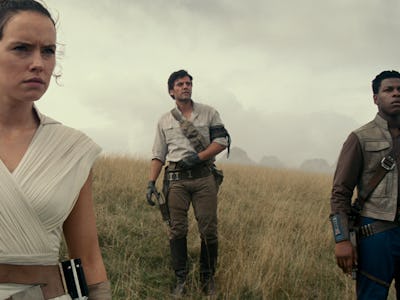 Lucasfilm
The Star Wars: The Rise of Skywalker teaser trailer released during Star Wars Celebration in early April was only just that, a teaser, so at some point before the film's December release, we'll get a legit full trailer that teases more of the story. When will "trailer 2" for Star Wars: The Rise of Skywalker arrives?
By our best estimate, fans can safely expect a full trailer for The Rise of Skywalker sometime in October.
Teasers for The Force Awakens and The Last Jedi were released at Star Wars Celebration in April of those years, followed by a full trailer in October ahead of a December release. There's no reason to doubt that Lucasfilm will do anything different this time around — especially when we already know Star Wars will have a minimal presence at San Diego Comic-Con this year.
On June 25, the unofficial SDCC blog reported that Lucasfilm won't have any space at SDCC at all, leading many to assume that the House of Mouse might show off Episode IX at Disney's D23 Expo in August instead. Looking at the presentations list, there is a presentation on Saturday, August 24 giving fans "a peek at the exciting slate of live-action projects, from Disney to Marvel Studios to Star Wars."
If any footage gets shown at D23, however, it'll be minimal. For The Last Jedi, the only thing that came out of D23 was a behind-the-scenes video.
If there is a more legitimate trailer, it probably won't be released to the wider public. Recall that for Avengers: Infinity War, Disney showed the same footage at San Diego Comic-Con and at D23 Expo, and most of that was recycled for a trailer officially released at the end of November to promote a film that came out the following April.
It's more likely that Disney will repeat the marketing cycle the company used for Episodes VII and VIII, but fans would do well to pay close attention to D23 Expo when the conventions runs from August 23 to 25.
Star Wars: The Rise of Skywalker will be released in theaters December 20, 2019.