8 Things D23 'Last Jedi' Behind the Scenes Footage Confirmed
From pink-haired admirals to lightsaber duels, and more, there was a lot of new reveals.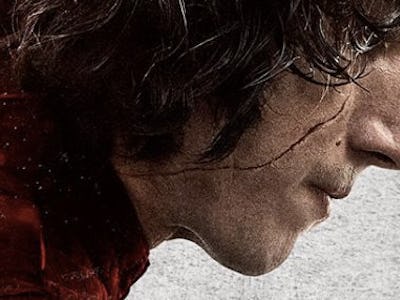 The late Carrie Fisher said the next Star Wars movie is about "family," but the latest behind-the-scenes footage from The Last Jedi revealed the movie is about all kinds of things. In fact, the new D23 reel has revealed way more Last Jedi info than anything in the first official trailer.
On Saturday, during the Disney D23 Expo, director Rian Johnson showed off impressive behind-the-scenes glimpses of the making of Star Wars: Episode VIII — The Last Jedi. And unlike the very first trailer for the movie, we actually got a look at several of the character's faces, including Laura Dern's Admiral Holdo and Bencio Del Toro's "DJ" character. In fact, in terms of nerdy details, this behind-the-scenes footage gave fans a lot more to chew on than perhaps anything about The Last Jedi that's been released thus far. Here are eight big reveals from the The Last Jedi behind-the-scenes D23 footage.
Possible spoilers for The Last Jedi are below.
First off, here's that awesome video again.
Okay, ready? Jump to lightspeed starts here!
1. A-Wing Fighters Are Back
The stubby starfighters from Return of the Jedi are clearly still in service in the Resistance fleet. We even see Poe Dameron in the cockpit of one of them.
2. Admiral Holdo Will Meet General Leia
Laura Dern's mysterious Admiral Holdo character seems to have at least one scene with General Leia Organa. There are rumors that these two don't get along on how to run the Resistance against the First Order.
3. Finn and Rose Will Go Undercover
A long-discussed rumor has centered on Finn going undercover aboard a First Order Star Destroyer. This shot of him and Rose in First Order uniforms seems to confirm that. It's also very reminiscent of a similar shot of Jyn and Cassian going undercover in Rogue One.
4. Luke Skywalker Will Wear Black Again, and He Has a Shoulder Bag
Luke won't just wear the all-white robes he was seen wearing at the end of The Force Awakens. Now, we see a few shots of him in the black get-up he had in the Star Wars Celebration Footage, only now it looks like he has a shoulder bag.
5. Kylo Ren Will Still Wear the Mask, and He Has a New Cape
Talk of Kylo Ren borrowing Darth Vader's cape has been going on for awhile now, but one shot confirms his cape does look way longer now. Also, despite institutions from the first trailer that he'll ditch his mask early, it looks like he'll wear his mask for a little bit longer in the film than previously believed.
6. Bencio Del Toro Will Share at Least One Scene With BB-8
It's only for a second, but Del Toro's shadowy character is briefly glimpsed with BB-8. Does this mean he'll help the Resistance?
7. Rey Gets a Jedi Hood
Perhaps the coolest shot of the trailer is Rey wearing a full-on Jedi robe, complete with a hood. This better not be the last shot of the movie!
8. Lightsaber Battles Will Involve More Than Two People
Two different shots seem to imply that the lightsaber battles in this film will have more than two combatants. One shot shows Adam Driver training with stuntmen: One guy has what could be a saber, and the other guy has what could be a staff? Another shot shows Daisy Ridley with multiple people clashing her saber. The second shot could be a joke shot, but the one with Driver really seems to suggest a three-way battle.
The Last Jedi opens on December 15.