New Character in 'The Last Jedi' Could Replace General Leia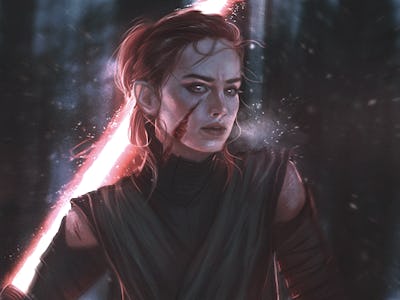 withoutafuss on DeviantArt.
When Luke Skywalker finally speaks in The Last Jedi, he'll be joined by at least one new character who might replace his sister. While it's fairly common for Star Wars films to populate each installment with new faces (or helmets), it's a little shocking that The Last Jedi will introduce at least a trio of additional new characters, particularly since one of those three people could permanently step in for General Leia.
Considering that The Force Awakens brought Star Wars back to its classic trilogy roots, it's easy to forget how many new characters it crammed into the nostalgia fest. Sure, you've got three main new heroes — Rey, Finn, and Poe — and one major new villain in Kylo Ren, but there were also a slew of new supporting characters too. The villainous First Order got Captain Phasma, General Hux, and Supreme Leader Snoke, while the Resistance introduced Snap Wexley, Jessika Pava, Connix, and the rest of Black Squadron. And then there's the Pirate Queen Maz Kanata, who along with all the characters mentioned above is alive and will return for The Last Jedi. So, with so many new players added to the Star Wars saga, why are there even more new people?
Kelly Marie Tran, Benicio del Toro, and Laura Dernnare all playing major roles in The Last Jedi, which is great because they're all great actors. But who they are playing has been the source of tons of speculation. Kelly Marie Tran has been rumored to be going on a secret mission with Finn. Benicio del Toro's character is totally unclear but recently emerged — bizarrely — as a candidate for Rey's secret father. And several rumors persist that Laura Dern's character may end up being a proxy version of Leia; a kind of "leader" character who will assume control after Leia is severely injured in the new film.
In light of Carrie Fisher's passing combined with the fact that Lucasfilm won't use a digital Carrie Fisher again, this could mean Dern's role will end up being even bigger for Episode IX. The actor has also confirmed that she loved the character of Leia and said, "I don't know any of us who didn't play Princess Leia for a Halloween." So if Dern is a kind of proxy Leia, it will fundamentally change the tone of the new trilogy going forward.
To be fair, The Empire Strikes Back and Return of the Jedi introduced a ton of new people, too. Star Wars wouldn't be Star Wars without Boba Fett, Yoda, and Jabba the Hutt, and all of those character's weren't originally seen in the first movie. Could Kelly Marie Tran be the Boba Fett of The Last Jedi? Is Benicio the next Yoda? And is Laura Dern really the next Leia?
When Yoda was introduced in The Empire Strikes Back, he served as a kind of replacement for Obi-Wan Kenobi. With Han Solo out of the picture, and limited involvement from Carrie Fisher after The Last Jedi, it stands to reason all of these new characters, particularly Laura Dern, might disturb the Force even more than we can possibly foresee.
The Last Jedi opens on December 15, 2017.