'Star Wars' Won't Bring Back Carrie Fisher With CGI
Lucasfilm squashed rumors about digitally reviving the late actress.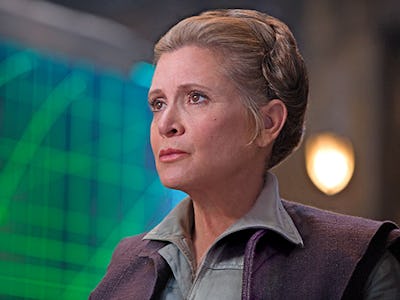 Lucasfilm announced Friday evening that it had no intention of creating a digital double of the late Carrie Fisher in any of its future Star Wars movies, a rare response to internet rumors by the secretive production company.
"Carrie Fisher was, is, and always will be a part of the Lucasfilm family," the company said in a statement. "She was our princess, our general, and more importantly, our friend. We are still hurting from her loss. We cherish her memory and legacy as Princess Leia, and will always strive to honor everything she gave to Star Wars."
Fisher's untimely death in late December set off speculation that Lucasfilm would attempt to create a performance using motion capture and computer graphics, a technology it used to great effect in its new film, Rogue One: A Star Wars Story. ILM, Lucasfilm's in-house visual effects company hired an actor to play Grand Moff Tarkin, and then used computers to graft on the face of Peter Cushing, the late actor who played the role in the original film in 1977. ILM also recreated a young Princess Leia with the same technology for a small "cameo" at the end of the film. Fisher gave her blessing for the Rogue One recreation, as did Cushing's estate.
Fisher revived her role as Leia — now a General in the Resistance — in 2015's smash hit The Force Awakens and had completed shooting on this year's Episode VIII.
According to The Hollywood Reporter, she was set to have an even bigger role in Episode IX, which is due out in 2019, and now Lucasfilm is working with director Colin Trevvorow to figure out how to change the film. Fans expressed concern that the solution might be to digitally recreate her, and some were outraged that Cushing — a far less beloved member of the Star Wars universe — was brought back via computers.
In a recent conversation with Inverse, ILM chief creative officer John Knoll promised that they had no intention of going all-in on CGI performances. "Oh, you need an actor," he said. And there are likely no actors that could ever replace Carrie Fisher.