Apple Watch Series 5: Patent Images Show That There May Be a Camera Coming
Snap a pic with your wrist.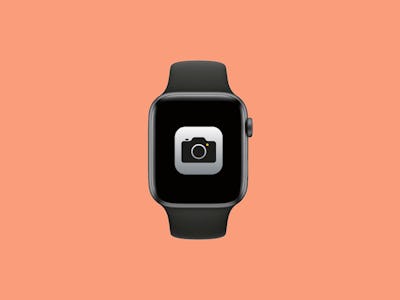 Apple / Danny Paez
The Apple Watch Series 4 emphasized consumer health with features like fall detection and heart monitoring. Based on some recent patent filings and other leaks, it looks like the Series 5 will focus more on helping the device function better as a smartphone-replacement, with a little dash of spy tech thrown in.
That's because the Apple Watch Series 5 may be the first smartwatch to come with a built-in camera, according to a surprising patent document granted by the United States Patent and Trademark Office on Tuesday.
Perhaps even more shocking is where Apple plans to place the camera.
Instead of embedding the lens into the watch's face, like the cameras on top of iPhone displays, Apple proposes embedding a camera in its band. The patent diagrams depict a rotating, optical sensor housed at the very tip of the Apple Watch's wrist strap.
Users could pull out the band when they want to take a scenic picture or a selfie and tuck it back in once they're done. This solves the problem of having to awkwardly angle a smartwatch camera, and could be the first steps towards fully wearable smartphones.
The patent description reads:
"The camera watch band is configured to be coupled to at least one side of the watch body, and the camera watch band includes an optical sensor or camera, and an operable connection to transfer data between the optical sensor and the display or other device. The band is flexible and may be manipulated by a user to aim an optical sensor disposed at the distal end portion of the camera watch band separately from the watch body."
Apple isn't the first tech company to weigh smartwatch camera tech. The Nubia Alpha is a $449 smartphone-watch hybrid that was showcased during the Mobile World Congress conference in February. But the reveal also shed light on why developing a camera-touting smartwatch is so difficult, and the design and camera placement were both heavily criticized, even if reviewers liked the concept.
Samsung is also trying to figure out how to make smartwatches that can stand on their own. In April the tech giant was granted a patent for a smartwatch-wristband that's basically a long OLED screen that can furl or unfurl depending on whether you want to wear it. Samsung's concept didn't include a camera, but it would let you access a lot more screen real estate for tasks like producing text which remain difficult on a small watch-face.
A smartphone without a camera, however, would be pretty unthinkable. If hardware-makers want to get people to start approaching smartwatches as standalone devices, they're going to have to figure out how to squeeze camera tech into much smaller space. That appears to be Apple's plan.
"Such functionality can replace or at least meaningfully augment a user's existing camera or camera-enabled device (e.g., smartphone, tablet)," states the document.
The "replace" in that small section is revealing. iPhones are the most popular smartphone in America and the Apple Watch accounted for half of worldwide smartwatch sales in 2018, but you aren't able to use them without an iPhone. With the creation of an Apple Watch App Store at WWDC last month, that started to change. Camera tech is the next logical step in that evolution.
Whether or not camera tech will debut on the Series 5 remains to be seen. Apple has released a new smartwatch every year since 2015 and all of them, besides the first model, debuted in September during the iPhone keynote. If there is a camera this time around, the Apple Watch will probably steal the show.