Apple Watch Series 5: Four Ways It Could Improve on the Hit Series 4
Apple has a hit product on its hands.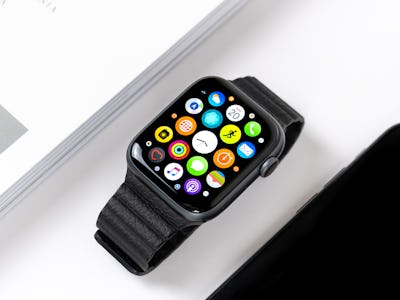 Unsplash / Daniel Korpai
The Apple Watch has quietly soared to become the best-selling smartwatch in the world, and its creator reported on Tuesday that it just wrapped up its biggest-ever sales for a non-holiday quarter. What was initially introduced as a curious extension of the iPhone has found its niche and enticed buyers, lighting a path for Apple to add new features that will keep that momentum going.
"It was another sensational quarter for wearables, with growth near 50 percent," Apple CEO Tim Cook told investors during the second quarter 2019 call. "This business is now about the size of a Fortune 200 company, an amazing statistic when you consider it's only been four years since we delivered the very first Apple Watch."
When Apple unveiled its first wearable gadget in September 2014, the watch tried to cover a number of areas. It billed itself as a piece of jewelry, perhaps best represented by the 18-karat gold Apple Watch Edition starting at $10,000. It was also a fitness device, with heart rate sensors filling up daily "activity rings" to reach goals. There was also a big focus on communication, with the large side button strangely dedicated to calling up a contacts wheel to send messages in an instant. The watchOS app platform also enabled third parties to come up with their own uses.
Nearly five years since that first showing, the watch's purpose has become clearer. It's pared down the jewelry pitch, dropping the Edition while maintaining partnerships with Hermes. Its fitness features now cover an electrocardiogram heart monitor, while GPS and cellular enable users to leave the iPhone at home during workouts. The side button has been switched from a communication shortcut to a means of navigating the operating system, recognizing that people want information fast. It also has a faster processor and bigger screen, minimizing the amount of time spent staring at the wrist.
Little wonder that the most popular activities with the watch are also the shortest and most passive:
Here are some of the ways Apple could continue its momentum with the Apple Watch Series 5, expected later this year:
4. An Always-On Screen
Apple has used an OLED screen with the watch since the start, maintaining this design decision with the Series 4 that launched in September 2018. Unlike LCD, the screen illuminates only the needed pixels, meaning colorful watch faces seemingly float on a black background. This flexibility means smartphone makers like Samsung have used OLED to offer always-on screens, with a minimal amount of pixels relaying brief information.
An always-on screen could help the watch shine. While the screen can switch on with a flick of the wrist, the pronounced motion just to check the time can draw attention in a public setting. The change would also provide access to information faster. It would also mean users could change the look of their watch in a more pronounced way, as it currently looks like a flat black talisman against the wrist no matter the chosen band.
With Apple reportedly exploring using Japan Display Inc to supply its next round of OLED screens, it could be a good time to reshuffle the screen's role in the watch. Apple's chief financial officer Luca Maestri described it in the earnings call as the "most-loved smartwatch," and improving its watch capabilities could help it retain that crown.
3. New Sensors
The Apple Watch could benefit from new ways to measure fitness and health. Cook highlighted in the earnings call how the company had expanded the electrocardiogram capabilities to 19 European countries and Hong Kong over the past quarter. The sensor checks every two hours for irregularities, like atrial fibrilation, and alerts users to abnormal heart measurements.
"Just like when the ECG app launched in the United States there's hardly a day that goes by that I don't get a letter or an e-mail from a customer in one of these countries talking about how this feature had significantly changed their life," Cook said. "We believe we're really just beginning to tap into what we can do to help our users actively manage their health and well-being."
New sensors could unlock new ways of understanding the wearer's body. A patent filed in March showed future watches could offer smell recognition capabilities. This could detect body odor, hazardous gases, and the wearer's sugar levels. An August 2018 patent even hinted at non-invasive ways to measure glucose levels for diabetics.
Cook said in a May 2016 interview that " the holy grail of the watch is being able to monitor more and more of what's going on in the body." As its sales soar, consumers could find it more invaluable than ever before.
2. Sleep Monitoring
Another popular aspect of the quantified self movement is tracking sleep patterns. While some iPhone apps like Sleep Cycle promise to measure quality by using the accelerometer in the phone, dedicated sleep trackers with specially-placed sensors can offer a clearer picture.
A February report suggested Apple will offer sleep tracking in a future device, possibly 2020 if tests go to plan. This could help collect information about irregular heartbeats, or even glucose levels if other rumors come to fruition. All of this would fit with Apple's drive to deliver more initiatives in health, like its partnership with Stanford University that studied heart data from 400,000 participants for medical research.
Of course, this will require two things: a comfortable strap, and longer battery life.
1. Battery Improvements…Or New Ways of Charging
The current Apple Watch lasts for a respectable 18 hours, but if Apple wants to offer sleep monitoring, that's not going to be enough. The watch charges through contact with the back plate, meaning it's convenient for charging at the end of the day by placing on the bedside table but does require the user to take the watch off at some point. A longer-lasting battery could reduce the need to remove the watch at night, providing more accurate sleep data.
More ambitious changes could involve wire-free power, perhaps like Wi-Charge which promises to deliver up to 10 watts of power through infrared beams that require line-of-sight with the watch. An even bolder idea could involve solar charging, as the New York Times claimed in February 2014 that Apple was exploring a solar-charging layer for its device.
Solar charging is popular in traditional watches like the Citizen Eco-Drive, which can store enough energy to last up to six months in the dark. Admittedly the Apple Watch is a much bigger power hog than these simpler timepieces, and for all we know, the company's internal tests may have revealed that the small top-up of power from solar charging outweighs the cost and complexity additions.
But hey, one can dream, right?