The Galaxy Fold Is Only the Beginning for Samsung's Folding Displays
Galaxy Watch devices could be up for a massive upgrade.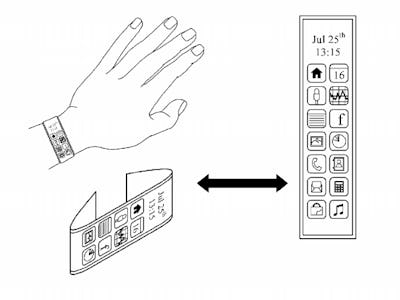 USPTO
Samsung appears to have plans to repurpose its foldable display technology to create a smartwatch unlike any other. The tech giant has led the push toward bendable handsets with the announcement of the Galaxy Fold during its February 20 Unpacked event. Even Apple, it seems, was impressed.
It's little surprise then that Samsung is considering using the technology in other device lines like the Galaxy Watch series. Today, smartwatches are mostly modeled after analog watches, with an OLED display instead of a watch face but with mostly conventional leather or metal wristbands. But in a new patent, Samsung has presented the idea using OLED screens to make a wraparound display that doubles as a wristband.
In the new patent first filed in 2014 but granted by the United States Patent and Trademark Office on Tuesday, Samsung engineers proposed creating a "variable stiffness flexible display" that could serve as both a watch and a portable screen. The concept is depicted as a long OLED sliver that functions like any other smartwatch — giving users access to email, texts, music, and other apps — but providing substantial more screen real estate.
The backbone of this concept would be electro-rheological (ER) fluid or magneto-rheological (MR) fluid. These substances both have unique properties that allow them to harden or soften when near an electrical or magnetic field. They could be the basis for the OLED screen in Samsung's proposed smartwatch, allowing it to bend open and stay closed or be flattened completely into a smartphone-like device.
The patent reads:
"The variable stiffness flexible display may be worn like a watch. In this state, when a user wants to view the screen in a wide form, the user may decrease the resistance, unroll the screen flat, and increase the stiffness of the variable stiffness flexible display using the ER fluid or MR fluid, thereby fixing the variable stiffness flexible display in the flat position."
This wouldn't be the first time Samsung has floated the concept rollable devices. During its November 2018 developer conference, the company presented a timeline for its display technology and placed a "rollable" concept coming after the folding technology it debuted with the Galaxy Fold.
Various other patents, spotted by Patently Mobile last month also depict a futuristic wristband display that can change shape into a flat display, which was first filed in 2013 and granted in March. These filings are slightly less detailed than Tuesday's documents, but both present strikingly similar devices.
Samsung might be in the middle of reinventing the phablet, but next on its list could be turning its Galaxy Watch line into a wearable straight out of Iron Man.