'Star Wars' Palpatine Theories, E3's Biggest Wins, and the Future of D&D
The June 18 edition of Inverse's Multiverse newsletter.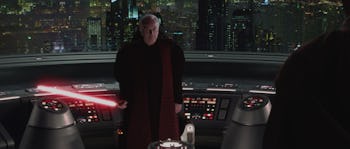 Lucasfilm
One new The Rise of Skywalker theory about Palpatine harnesses "unlimited power!" … we rank the best moments of E3 2019 … and the future of Dungeons & Dragons isn't in the United States. (It's not in Faerun either.)
This is a recreation of the June 18 edition of our twice-weekly entertainment newsletter, the Multiverse. Subscribe here to get information just like this delivered to your inbox.
What If Palpatine's Been Here All Along?
Emperor Palpatine will return in Star Wars: The Rise of Skywalker, and everyone's been grappling with various fan theories to explain how he reappears three decades after Darth Vader tossed him into the core of the second Death Star. One recent theory makes a shocking connection between Kylo Ren, Vader's helmet, the Knights of Ren, and an ancient Sith ritual that might appear in Episode IX. Here's now Palpatine — not Snoke — might've been pulling Kylo Ren's puppet strings.
Matt Smith's mysterious Episode IX role could be the key that brings all of these things together. Lucasfilm still denies that the former Doctor Who actor is even in the upcoming Star Wars movie, but that's likely due to the spoilery nature of his huge role. Here are six possible explanations.
What's next? A full trailer for The Rise of Skywalker should come around October, but the film won't be released until December 20, 2019.**
Read more about Episode IX:
Honoring E3 2019's 15 Best Moments
Inverse had Vans on the ground at E3 2019. Staff writer Danny Paez spent a few days at the Super Bowl of video game conventions in Los Angeles. Everyone knows that Keanu Reeves won E3 2019, but Danny reported on everything from the most memorable gaming accessories to the most unexpected celebrity appearance that wasn't Keanu Reeves. Read about all 15 moments here.
For a comprehensive list of Inverse's E3 2019 stories, click here.
The Future of Dungeons & Dragons Isn't Online
The new Acquisitions Incorporated adventure book for Dungeons & Dragons is out today, and it makes every character from the longest-running live-play session — also called "Acquisitions Incorporated" — official D&D canon. I spoke with Penny Arcade President Jerry Holkins about the creation of the new source book, which blends "deeply ordinary clerical toil with multiverse-spanning stakes" in a fantasy adventure that gives you a job. Read more.
Wizards of the Coast hosted the premiere D&D annual event in May in the form of "D&D Live." While in attendance, Inverse's Eric Francisco spoke with game designers from Wizards of the Coast and celebrities like Deborah Ann Woll and Joe Manganiello about the past, present, and future of the world's most popular tabletop game. Here's what they said.
More Breath of the Wild Sequel Secrets Revealed
Nintendo's surprise teaser for the Breath of the Wild sequel wowed everyone at E3, and we can't stop speculating about who that creepy mummy was and what it means for Link and Zelda to be adventuring together now. One fan has decrypted the runes that appear in the trailer, and what they say could change everything. Read about this huge spoiler.
More messages from Hyrule:
Inverse Future 50: Adria Arjona Is "Done Apologizing"
The Inverse Future 50 series explores the coming decade with 50 individuals that will help shape it. Actress Adria Arjona stars in Good Omens and will appear in next summer's Morbius, and she's done apologizing. Read more to know why.
Meanwhile
Sign up for the Multiverse and our other newsletters right here.