PS5 vs. New Xbox: Sony and Microsoft's New Console Prices Might Stun Gamers
Competition is hot. And that's good for gamers.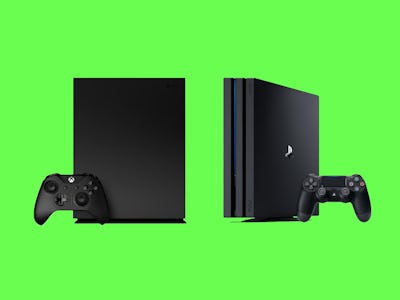 Microsoft / Sony
Both Microsoft and Sony have now pulled the curtain back on their next-generation consoles to give gamers a glimpse of what's in store for 2020. The PlayStation 5 and Xbox Scarlett systems will pack solid-state drives (SSDs), support ray tracing, and handle 8K resolution graphics. These developments will bridge the gap between console and PC gaming, perhaps for good. But what will that mean for gamers' wallets?
In light of these bleeding-edge features, fans could reasonably expect eye-watering price tags to match. But this might not be the case. In fact, the next-gen consoles might actually wind up being cheaper than their predecessors, according to the established industry analyst Michael Pachter. In an interview with GamingBolt that was published Friday, Pachter said that intense competition could be good to gamers.
"The specs suggest $500 or so," he said. "But my bias is that Microsoft will announce $399 and Sony will follow suit."
PS5 vs. New Xbox: Sony Might Be Forced to Cut Cost
So why the low prices? For one, a console will likely be a tougher sell in 2019 than it was in 2013, when the current generation of consoles began rolling out. Cloud streaming services like Stadia and the new Apple Arcade subscription are starting to make it easier to access better games without any hardware at all.
But there is another explanation for prediction as well. It has been widely reported that, unlike Sony, Microsoft plans to launch not one but two consoles in 2020: a budget-friendly "Lockhart" system and a souped-up "Anaconda" console. Regardless of its specs, this means Sony will have to price the PS5 relatively close to Microsoft's cost-effective system to avoid shooting itself in the foot and pricing itself out of an entire market.
This wouldn't be the first time this has happened to the Japanese gaming and entertainment giant. When it was first released, Sony reported slow PS3 sales in 2007, with Jack Tretton, former console chief for the company, citing pricing "missteps" during its initial launch. Even if the PS5 boasts better internals or features than the slimmed-down Xbox, Microsoft will still benefit from having the cheapest entry-level model.
Pachter has already expressed these concerns, arguing that Sony needs to price the PS5 strategically to keep it from making a bad first impression. This was the gist of an E3 2019 interview Pachter gave to the gaming journalist Geoff Keighley, where he argued that the PS5's impressive specs may have already set it up for failure.
"If they make the mistake they made with PS3 and charge $600 or more, they've screwed themselves," he said. "[But] I don't know how you spec that thing out at $300 or $400."
PS5 vs. New Xbox: More Power at a Reasonable Price
History is on gamers' side. The not-too-distant memory of Sony's PS3 slip-up will make a specs-packed — but expensive — strategy for the PS5 an especially tough sell. There is also some evidence that Sony is looking to cloud gaming as a way to make up the shortfall if a VR-proofed PS5 proves too expensive to manufacture.
In a shocking twist given the two companies' longstanding rivalry, Sony recently announced a cloud gaming partnership with Microsoft on May 16. The joint venture will help Sony improve its PS Now cloud streaming service and also bring PlayStation exclusives to Xbox fans for a small fee.
The fact that the two main console giants are teaming up on cloud gaming is firm evidence that they view Google Stadia as a threat. But their rivalry is far from over. The 2018 global console market was valued at $34.6 billion by gaming market analytics firm Newzoo, and it's still expected to grow this year despite Stadia's insurgence.
Stadia and other services like it have a long way to go before they can claim to have killed the console for good. But there is no question that, meanwhile, console-makers are going to compete tooth and nail for gamer loyalty. In this environment, raising prices presents an enormous opportunity cost. 2020 may be one of the best chances in gaming history to get the latest console tech on the cheap.