Nintendo E3 2019: Live Stream Link, Pokemon, Zelda, Full Game Preview
Rumor has it the company is going to revive some classics.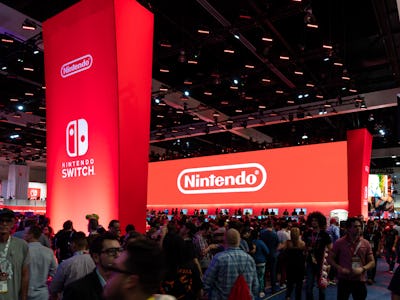 Flickr / Sergey Galyonkin
The countdown to E3 2019 is winding down, and Nintendo is said to be planning a showstopper that will be rivaled only by the epic Microsoft's keynote. The Japanese gaming company will host two esports tournaments, have a huge array of gaming booths, and has the largest space reserved on the show floor. And those aren't even for its main event.
How to Stream Nintendo's E3 Presention
Nintendo will host a Nintendo Direct announcement on at 9 a.m. local time on Tuesday, June 11 from Los Angeles. It will be streamed live on its E3 2019 homepage and YouTube channel. The event is expected to announce the release dates of a few anticipated titles, take the wraps off unannounced games, and could be the grounds for a surprise or two.
Last year, the company's showcase focused heavily on the release of Super Smash Bros. Ultimate. As of April 2019, 13.8 million units of the game had sold worldwide making it the best selling Smash Bros. title of all time. The company will aim to recreate that excitement for its new roster of games.
Here's everything to expect from Nintendo's E3 2019 appearance.
Nintendo at E3: Will There Be a New Switch?
Before diving into games, reports form earlier in 2019 indicated Nintendo could reveal a cheaper Nintendo Switch "Lite" at E3. At the time, analysts told Inverse that they expected a new primarily handheld model with non-detachable Joy Cons and the ability to cast games either with a cable or wirelessly. But since the report, this announcement has appeared increasingly unlikely.
Company president Shuntaro Furukawa said that a new Switch won't make a debut at E3, though he didn't rule out its existence entirely, either. Japanese newspaper Nikkei also suggested that the company might wait until the fall to announce the budget Switch, but that doesn't mean E3 will skip the hardware news entirely.
Twitter user Wario64 snagged a screenshot of an Amazon UK placeholder for a "Nintendo Switch Console Dummy." Since Furukawa outright denied a the possibility of a new Switch, this will likely be a sale bundle that could include some of the new games Nintendo is expected to launch.
Nintendo at E3: Confirmed First-Party Games
Nintendo has already announced that it will give fans a closer look at the five titles it announced earlier in the year. The company said the following titles will be playable at its booths and will likely receive firm release dates.
Pokémon Sword & Shield: This title will introduce players to the eighth generation of new Pokémon and is expected to be a new adventure with a new story, though old favorites like Pikachu and Lucario will show up as well.
The Legend of Zelda Link's Awakening: Nostalgia-seekers rejoice, the stylized high-definition remaster of the 1993 Game Boy game The Legend of Zelda: Link's Awakening is ready for its time in the spotlight. The game is a fully 3D remake of the original, featuring new graphics and mechanics while retaining the top-down perspective and the miniaturized look of classic Zelda.
Luigi's Mansion 3: Six years after the sequel, the *Luigi's Mansion series will return. Like the previous titles, it's expected to take gamers on a spooky adventure with Mario's more cowardly brother. Luigi was seen sporting his iconic ghost vacuum in the game's trailer, so it should retain the same charm as the previous two games.
Marvel Ultimate Alliance 3: The Black Order: Finally, Nintendo will showcase its reboot of its action role-playing super-hero game. The title is set to release on July 19 and is the only game of the bunch that has received a launch date.
The company's E3 tweet suggested there will be more playable games available, so there could be a few surprises in store.
Nintendo at E3: Potential First-Party Games
There has been chatter that Nintendo could also drop a release date or gameplay details about five other games that were mentioned in previous Direct announcements. The company hasn't confirmed that these titles will receive updates but they're the most likely candidates.
New Animal Crossing
Astral Chain
Super Mario Maker 2
Mario Kart Tour
Fire Emblem: Three Houses
Nintendo at E3: Cross-Platform Games Coming to the Switch
Besides classic Nintendo franchises, the company will also announced cross-platform games that will be coming to the Switch. The following titles have all been confirmed, Nintendo just needs to announce a release date.
DOOM Eternal
FIFA 20
Bee Simulator
Cosmic Defenders
Reel Fishing: Road Trip Adventure
While Nintendo likely won't launch any new hardware, it'll use its E3 showcase to keep gamers excited about the Switch with a flurry of new titles. Plus, there might be discounts on the console to bring new players on board.
Tune into Nintendo Direct at June 11 at 12 p.m. Eastern to get a full scope of what the company has planned for the next year.