E3 2019 Schedule: 3 Revelations From the Gaming Expo's Floor Plan
What should gamers expect?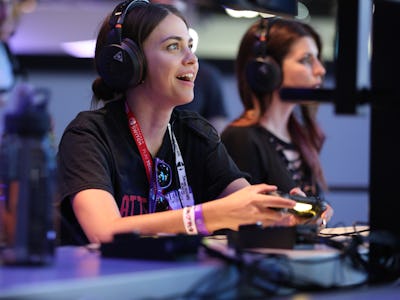 E3 
As E3 2019 inches closer, sparkly-eyed gamers eagerly await a flurry of game teasers, product announcements and esports tournaments. The event won't kick off formally until June 11, but in the meanwhile, gamers can turn their attention to the newly released floor plan for clues about what to expect.
E3 only just released the floor plan of the conference on Thursday, and it details where all of the tech companies, game publishers, and other showcases will take place. As expected, companies like Bethesda, Epic Games, Ubisoft and Nintendo will all have the biggest displays, but there are also a few major players that aren't included on the roster.
Most notably, Sony announced late in 2018 that it plans to skip the E3 this year, likely because the company is heads down readying the PlayStation 5. But if you'll notice the floorplan below, you'll see that Sony's biggest console rival, Microsoft, is also nowhere to be found, even though Microsoft has already announced that it will host a keynote at E3.
So what gives? Will gamers get an Xbox press conference? Where's Activision? And will there be a new Call of Duty teaser?
Here are the three big hints gleaned from the conference floor's layout.
Microsoft Has Something Big Planned
The biggest takeaway from the floor plan is that there appears to be no Microsoft booth. This is despite the fact that the company is scheduled to host its yearly Xbox E3 briefing starting at 4 p.m. Easter on June 9. So why the omission? Instead, its events will all take place about a five minute walk from the convention center at the company's own Microsoft Theater and the Xbox Plaza at LA Live.
The fact that the company has its own venue suggests its showcase will be amongst one of the largest of the three-day expo. Sadly, the company isn't expected to announce anything about its upcoming Xbox "Scarlett" consoles, but Halo Infinite and Gears 5 teasers are on the table. Most notably, it may use E3 to reveal a project that has been two years in the making.
Microsoft's head of gaming, Phil Spencer, recently announced that public trials for the company's xCloud cloud gaming service will begin sometime in 2019. E3 could see an official launch date for the service's beta version.
Activision Will Be Present
Activision, the company behind the Call of Duty and Destiny franchises is also glaringly absent from the floor plan, which is strange seeing as the company is largely expected to showcase its new Call of Duty game. But the company isn't missing out on E3 completely.
GamesIndustry reported on Thursday that Activision had confirmed that instead of a booth, Activision would be offering "behind closed doors sessions." The company may use the time to tease its next shooter and potentially the Mario-Kart-like Crash Team Racing — which isn't confirmed for E3 but is scheduled to launch in 2019 — as well as anything else they've kept under wraps.
Nintendo Looks Set to Steal the Show
Finally, Nintendo has the largest booth of any other company on the floor plan, and, particularly if there's no xCloud news, stands to be the winner of this year's E3. It already has a Super Smash Bros. Ultimate and Splatoon 2 tournament scheduled, and could reveal details about a plethora of iconic franchises that Switch fans have been craving.
Teasers for Pokemon Sword and Shield, Metroid 4 Prime, Marvel Ultimate Alliance 3: The Black Order, Luigi's Mansion 3, The Legend of Zelda: Link's Awakening, Bayonetta 3, and potentially more games are expected. The company announced it would host a Nintendo Direct on June 11, an announcement typically reserved for big game announcement. But despite all these promising signals, a console release seems very unlikely.
Nintendo shut down rumors that it might unveil a cheaper version of the Nintendo Switch, but that doesn't mean its booth is going to be any less packed. Its console has reached an unprecedented levels of popularity.
The console has a sold more than 34 million units as of March 31 and Strategy Analytics now predicts that the Switch will help Nintendo surpass Sony in console sales for 2019. A blowout event will likely keep the excitement going.