WWDC 2019: Why Previews About Augmented Reality Might Be Wrong
What will Apple reveal about its secretive AR plans?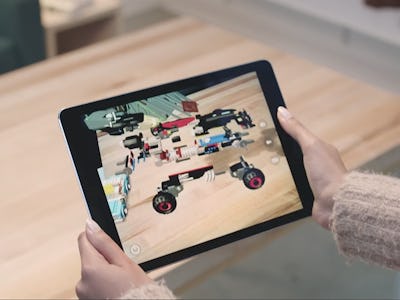 Apple
After more than a decade of iterative releases, the iPhone and its Apps are old news. Augmented reality is now the domain where Apple showcases the most cutting-edge tech, and ahead of next week's Worldwide Developers Conference, it appears that ARKit — the toolkit for augmented reality app developers — will play a role again. But how large of a role won't be known until Monday, as prominent experts have differing ideas about AR next week. Some previews about AR are going to be wrong come Monday, when the major keynote wrap up.
First, let's rewind to last year: At WWDC 2018, Apple VP Craig Federighi showcased ARKit 2, which introduced Shared Experiences, a new feature that allows multiple devices to experience a shared virtual world. There were a few demos to give people an idea of the possibilities, which ranged from the development of multi-player AR games to better workplace collaboration tools. An augmented reality demo built around Legos, in particular, was a major crowd-pleaser: "OMG AR LEGO HELP IM IN TEARS," commented Justine Ezarik, who goes by the handle iJustine on her tech-focused Youtube channel.
What We Know About Apple's Latest AR
So while ARKit got major stage time during both WWDC 2018 and WWDC 2017, the year it was introduced, 2019 looks to be more of the same for this futuristic tech that hasn't quite hit the mainstream:
In a survey last week of VR and AR industry insiders last week, the companies Digi-Capital and AWE found that Apple ranks only after Microsoft's Hololens and the deeply-funded Magic Leap in terms of influence on the sector.
In March, Apple analyst Ming Chi Kuo kicked off rumors about Apple's augmented reality efforts into high gear, writing in his analyst note that he expects that Apple's future augmented reality glasses to enter production later this year. The augmented reality game-filled Apple Arcade is also expected to launch by the fall.
These imminent launches, and the necessity that Apple developers can begin preparing for them, have expectations high that augmented reality will be front and center at WWDC this year, and that Apple might even offer a glimpse of the new headset. But as Monday's event approaches, there have been surprisingly few AR-related leaks about what Apple has planned.
The expectedly exhaustive WWDC previews from *Bloomberg's* famously well-sourced Mark Gurman makes little mention of augmented reality. In a May 31 report, he writes that "internal" versions of the iOS 13 have added some functionality to support a headset, but doesn't really elaborate as to what these functions are. He also says that Apple is unlikely to talk about these efforts publicly at the conference.
Other notable leakers, like Guilherme Rambo at 9to5Mac, have revealed a bit more about the planned changes to ARKit. Rambo writes that at WWDC 2019, ARKit will get the ability to detect human poses, integrate with game controllers, and gain a new companion app to make it possible to develop new AR apps more visually.
That said, there is little-to-no evidence that Apple will roll out the rOS — reality operating system — which is expected to be the default operating system for Apple's upcoming VR and AR-related hardware.
2020 Will Be the Year of Apple AR
Instead, it's looking more like Apple will use WWDC to focus on its other efforts to ready for the post-iPhone era. While an AR headset is obviously part of that equation, the first AR headset is expected to launch as an iPhone accessory, so instead, Apple is expected to focus more on the iPad, Apple Watch, and Project Marzipan, an multi-year effort to unify Apple's coding languages so that developers can make single apps that work across multiple devices.
In this regard, the iPad and the Apple Watch are expected to take center stage. For the first time, the Apple Watch will get its own app store, which will make it significantly less dependent on owning an iPhone as well. The iPad is also said to be getting a number of upgrades that make it more like a conventional work PC.
If it proves to be true that Apple will take another incremental step in AR development, it may slightly disappoint enthusiasts of the technology. But also makes sense: The 2020 iPhones are set to gain a number of augmented reality-facing improvements, too, chiefly better 3D-cameras. Since the first headset Apple launches will need the iPhone to run, Apple could present rOS at WWDC 2020, and then unveil the devices at the 2020 iPhone event.