'Daredevil' Star Reveals How Season 4 Would Have Had a Different Tone
Deborah Ann Woll reveals what 'Daredevil's showrunner had planned.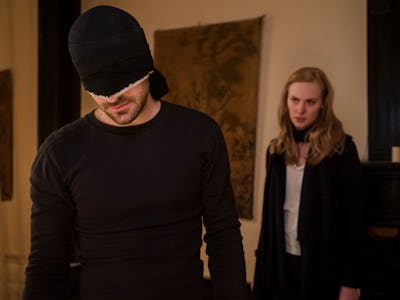 Netflix
The Marvel/Netflix franchise is set to conclude with the release of Jessica Jones Season 3 on June 14. But had the shows continued, the fourth season of Daredevil would have had a lighter tone.
At D&D Live 2019: The Descent, the annual celebration for Dungeons & Dragons in Los Angeles, Inverse caught up with Deborah Ann Woll, a passionate D&D fan who hosts Geek & Sundry's Relics and Rarities. She tells Inverse that Daredevil Season 4 would have had "elements of hope," in a change of tonal pace from the very bleak third and final season.
"I don't have any specific knowledge," Woll says. "The only thing that he [showrunner Erik Oleson] shared with us is that, because it was so grim in Season 3, that he was interested in introducing some elements of hope and lightness."
Season 3 of Daredevil was indeed dark series and that's not referring to the lighting. The third and final season of the series followed Matt Murdock (Charlie Cox) recovery from wounds sustained at the end of The Defenders. As Matt retrains his abilities beneath a church, where his estranged mother is a nun, Wilson Fisk (Vincent D'Onofrio) returns from prison to take over New York with the help of a dangerous assassin, Bullseye (Wilson Bethel).
For six seasons of Marvel TV (including two for the spin-off The Punisher and one for The Defenders), Woll played Karen Page, a close friend of Matt Murdock who becomes a crime reporter for the fictional New York Bulletin. In a set visit to Daredevil Season 3 last summer, Woll told Inverse she consulted with her aunt, a professor of journalism in Washington.
"I have picked her brain a ton," she told Inverse. "In Punisher, we had the guy who wrote in a threat to the paper. She gave me a lot of information about the Unabomber. We wanted to make sure we follow the line on it. Obviously, it's TV, you have to take poetic license here and there. It's been nice to finally play that archetype."
Last year, Marvel fans hoped for another season of Daredevil until Netflix canceled the series in November 2018. It was the third show to be canceled by Netflix following Luke Cage and Iron Fist. Not long after that, the axe fell for both The Punisher and Jessica Jones, cementing the end of the MCU on Netflix. If you ask Marvel, it was Netflix's decision to cancel the shows.
While Woll made her mark on the Marvel Cinematic Universe, it's in another universe, the Forgotten Realms, where her enthusiasm truly lies. On Geek & Sundry, Woll hosts Relics and Rarities, a lavishly-produced show where she serves as DM (for "Dungeon Master") over a D&D game that eschews the power fantasies of typical adventures in favor of clever puzzles and quirky riddles.
"For me, it's creativity," Woll says. "If you get the +2 sword, that's great, but that just means the numbers get higher. It doesn't change how you play the game. I like the idea that you get a spool of thread, it has a minor magical property that allows it to be extra special. That is all I wanted. I wanted to say, These are the items, and they're only powerful in the way you use them."
Marvel's Jessica Jones Season 3 will premiere on Netflix on June 14.