The 'Fortnite' Season 9, Week 4 Utopia Challenge Is a Confusing Mess
Figuring out this new Fortbyte format is the real challenge.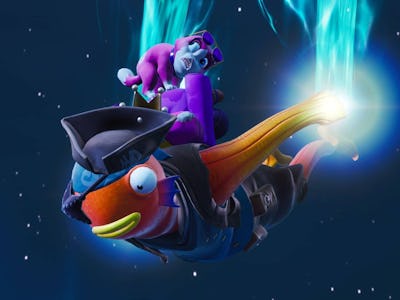 Epic Games
The more hardcore Fortnite: Battle Royale players will be disappointed to find out that the Season 9, Week 4 Utopia challenge doesn't have a hidden banner or a secret battle star; instead there's a confusing mess waiting for them. Just like in Week 2, there's a Fortbyte challenge attached to this Utopia challenge, but the clues are unlike anything we've ever seen before.
Here's how to figure it all out.
Between the usual seven weekly challenges, the ongoing series of 100 Fortbyte challenges, the John Wick challenges earlier in May, and the Downtown Drop challenges, this new Utopia challenge format is really giving us challenge fatigue.
Throughout Season 9 thus far, Week 1 and Week 3 each had a Utopia secret battle star available to claim, and Week 2 granted players special access to a Fortbyte challenge, establishing it as the new Season 9 trend.
In case that wasn't already complicated enough, Epic Games decided to up the ante.
Rather than a clue hidden within the Week 4 Utopia loading screen, the clue is instead part of the text description that most people usually ignore. In fact, many people probably don't even know that loading screen descriptions exist. Now, they've suddenly become important.
"Sandstorm and Scimitar race to the Keyboard King ATM, and the winner always gets paid," the Utopia Week 4 loading screen description reads.
Keyboard King refers to an internet cafe located in Paradise Palms. You can't actually see the business in the loading screen — the Paradise Palms skyline is visible in the distance — but the ATM is located just outside on the sidewalk.
To recap: Rather than the Utopia Week 2 hidden banner (nobody likes those, anyway!) being teased by a visual clue in the loading screen, the clue is in the loading screen's description. That leads to an ATM machine in central Paradise Palms outside of a computer cafe that nobody's ever talked about before.
But wait! There's more.
The Fortbyte is located inside the ATM, but you cannot destroy the ATM to claim it. Players have to interact with the ATM to withdraw the Fortbyte, so hitting it with your pickaxe means forfeiting the chance to grab the Fortbyte for the duration of the current match.
Virtually every step in this elaborate process is unprecedented and confusing to hordes of Fortnite players this week, but hopefully this clears things up a little bit for everyone.
Fortnite Season 9 isn't scheduled to end until July 23, so players have plenty of time to figure out this confusing new challenge format and claim this Fortbyte.
Fortnite: Battle Royale Season 9, Week 5 should begin the morning of Thursday, June 6. Hopefully, that Utopia challenge will be a normal secret battle star.