'Game of Thrones' Finale Teases a Sequel Spinoff With the Original Cast
Does Tyrion know something we don't?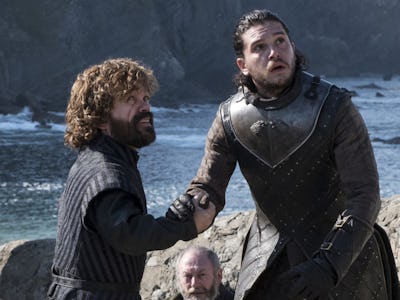 HBO
The watch may have ended on Game of Thrones, but HBO ensured the show will live on with various spinoffs and prequels already in the works. The finale hinted at various ways the story could continue, but only one clue provides a blueprint for the entire Game of Thrones cast (or at least a bunch of them) to reunite once more.
Spoilers for the Game of Thrones finale ahead.
When Jon asks Tyrion whether they did the right thing by killing Daenerys, Tyrion responds by saying, "Ask me again in ten years." It's definitely a strange response considering the massacre of King's Landing and all the abrupt changes suddenly facing Westeros. It's also not exactly a comforting response to Jon, who'd just murdered his aunt/lover and was probably filtering through an assortment of emotions. The response, however, may not have been aimed at Jon specifically, but to set up a potential Game of Thrones sequel.
Redditor u/theglenloveinet argues Tyrion's words weren't to comfort Jon or promise that they'd see each other again. After all, Tyrion could have just said, "I guess we'll see," but he didn't. No, he may have said these words to establish a Game of Thrones sequel down the line that would bring back the original cast and show us exactly what's been happening in Westeros during the lost ten years.
"Why ten? Why not twenty? Or fifty? Or when Tyrion is on his deathbed? Why does it matter?" asks u/theglenloveinet. "My thought is that this line is indicating that we will receive a sequel series with these characters."
Only one prequel has been given the green light and already started shooting its pilot. There's no telling what HBO has in store for its other spinoff shows, only that the prequel will take place long before the events of Game of Thrones.
However, this fan theory argues that ten years is a good amount of time for the series' actors to pursue other projects before returning to reprise their roles in a Game of Thrones sequel. It prevents character/actor fatigue and allows space between fans and the creative work. We're also living in the age of remakes, reboots, and reunion shows. So why not?
Additionally, there's also a lot of paths this sequel could take. With Grey Worm setting sail for the Island of Naath and Arya going west of Westeros, a story set 10 years later could catch us up with their adventures. It could also check in on how Bran/Three-Eyed Raven did as ruler for the first ten years of his reign.
Either way, the original cast could be back for a fresh batch of stories. While prequels can be fun, there's no denying fans would be most excited to see the familiar faces of their favorite Game of Thrones characters once again — especially after a ten year break.
Of course, Tyrion's line could be just that, a line. After all, the Hand of the King didn't lose his sense of sarcasm and wit simply because he lost his siblings. To ask him again whether they made the right choice in ten years is fitting because that's how long it will take to know whether or not they created entirely new problems.
There's also the fact that, unless HBO already has the actors locked into a very complex contract (which seems unlikely), there's no a guarantee they'll be able (or even want) to return. Plus, most of the characters have died, so there'd only be a handful left to appear in ten years time. While it's good to keep hope alive, talks of a Game of Thrones sequel with the original characters so soon after the finale is unlikely.
Then again, maybe 10 years from now we'll all be getting ready to watch Game of Thrones Part 2.
Game of Thrones is now available to stream in its entirety on HBO.