Google Stadia's Latest Spec Leak Suggests the  Service Will Disappoint
It might not deliver on everything promised at launch.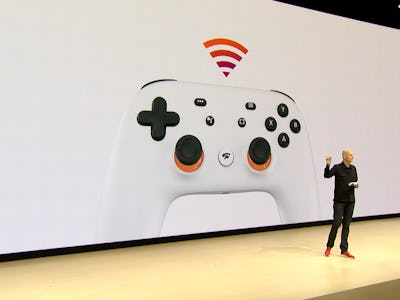 Google
Google Stadia wants to flip the video game industry on its head by offering access to AAA titles without pricy hardware. At its launch, Stadia engineering chief Majd Bakar said Stadia will let gamers stream AAA titles in 4K resolution at 60 frames per second, using hardware as rudimentary as a smartphone or tablet. These promises have inspired former competitors like Microsoft and Sony to join forces, though it also looks like Google may have bitten off more than it can chew.
This is according to an alleged leak of the hardware that will power Stadia's infrastructure, and which recently appeared on a products list on the Khronos Group's Vulkan API. The entry describes a "Google Games Platform Gen 1 (AMD GCN 1.5)." Assuming the platform in question is in fact Stadia, then the product list reveals some crucial information, chiefly, the type of GPU it will house.
As you may be aware, AMD is the top gaming chip supplier, and it's currently developing a new, 7-nanometer architecture of GPUs — called "Navi" — to power the upcoming PlayStation 5 and Xbox "Scarlett" consoles. These customized Navi chips are supposed to be beastly, but based on the product list, it looks like Google's gaming product is using a different chip architecture.
Instead, the Khronos listing says Google will use a "GCN 1.5," which is short for AMD's 14nm Vega chip series, a set that was first released in 2017. While Vega chips still power many high-end PCs today, Stadia will have a hard time delivering on its promises using a 2017 GPU as its engine.
Bakar has already promised that Stadia would launch with 10.7 teraflops (graphical power), 56 compute units, and 8GB of HBM2 memory capable of running 484 GB per second. The Radeon RX Vega 56 comes with both 56 compute units and 8GB of memory, which suggests it could be the GPU Google settles on. But it only provides 8.3 teraflops of graphics power on average.
AMD states that the Vega 56 is capable of a maximum performance of 10.5 teraflops. That gets close to what Google's promised, but it would still require the chip to be constantly overclocked, shortening its lifespan and affecting its future performance. And even then, achieving 4K resolution at 60 fps seems out out reach.
TechSpot tested the Vega 56 with 25 different games and found it averaged 43 fps at 1,440p. This kind of performance will likely be dwarfed by the Navi architecture expected to be teased at E3 2019, which is expected to bring stead 60 fps gameplay to consoles.
AMD CEO Dr. Lisa Su has confirmed that both the PS5 and Xbox Anaconda consoles will receive a custom Navi GPU to usher in a new era of game graphics. The company expects the base architecture of chips to be ready by the second half of 2019, and a handful of sources have suggested they'll come with an unprecedented level of performance.
Two batches of leaks suggested the PS5 will be capable of somewhere between 12 and 14 teraflops. These specs confirm rumors from industry insiders that the PS5 and Xbox Scarlett devices will dwarf Stadia's graphical capabilities. But that doesn't mean Google's cloud gaming venture is doomed.
The company can easily upgrade its system infrastructure with new GPUs as time goes on, pushing out better and better performance to its users. But as it stands, Stadia might be headed for a slightly underwhelming launch. That would leave it playing catch up to the PS5 and Xbox Scarlett, once they launch formally in 2020.
Google did not immediately respond to a request for comment.